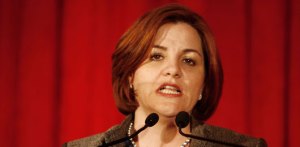 City Council Speaker Christine Quinn faced some pointed questions at a press conference this afternoon about the timetable by which the City Council voted on a $2.9 billion (upward) adjustment to the city's current budget.
At the press conference, Quinn said the extra spending is the result of the city taking in more tax revenue than was expected when the current budget was adopted back in June. The chairman of the Council Finance Committee, David Weprin, said that about $1.6 billion of that money was going to pay down the city's debt obligations and that the rest of the money would go toward prepaying things like transit subsidies and library costs.
Quinn said, "People should not misconstrue that to think that we are flush with money." She also said, "We desperately need that money to pay the '09 debt and to pay bills and debt in 2010 and to keep us balanced. If we were to spend all of that money in '08, we would put ourselves in a position where we didn't have enough money to pay our bills, to pay our services we owe New Yorkers next year, and the year after."
She explained, "You need to remember, every budget gets judged by the amount of prepayments of bills, and debt is the same, greater, or less than the year before. And if we pay fewer bills in advance in one year, compared to the year before, we will be deemed to be in a structural deficit, which is a very problematic place to be going into a recession and a problematic place to be as it related to bond agencies."
The modifications were voted on today, in the Council's finance committee and, later in the day, by the full Council. (It passed the Finance Committee 20 to 0, and 45 to 0 in the full Council.)
But the timing didn't leave much opportunity for members, or the public, to review the modifications, a point raised by Daily News reporter Frank Lombardi.
After Quinn said the modifications were discussed in detail yesterday at a closed-door meeting of the Council's Democratic Caucus, with the Council's finance staff, Lombardi asked, "But shouldn't this thing take place in public?" Lombardi also said, "We the press, and the public, don't get to see what's going on" and "we will have all of no minutes to see it before it's voted on."
Quinn responded, "You assume there are deep questions about this modification. This is largely a technical modification."