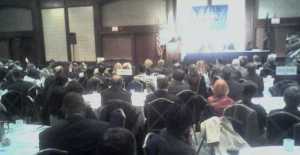 At a Crain's business breakfast in Midtown this morning, Christine Quinn said she doesn't think her career as City Council speaker will be "defined" by the "problem" the council has in the slush fund scandal.
Quinn said she, and others, will be judged by the solutions they propose to problems as they arise.
It's among the most concise attempts to frame the recent money problems in the Council, and to regain the mantle of reform her prospective candidacy was premised on.