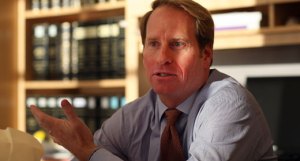 Merle Gross-Ginsberg recalled a dinner hosted by the Real Estate Board of New York back in 1975, where she, Leona Helmsley and one other woman were grossly outnumbered by some 1,800 men—"all smoking the most enormous cigars you've ever seen," she said.
The industry's vast gender gap has slowly begun to close in recent years. Yet, even at the Association of Real Estate Women's 30th Anniversary gala at the Mandarian Oriental Hotel at Time Warner Center on Thursday night, males still dominated the crowd by about 2 to 1. Maybe even 3 to 1.
"There's a lot of dick," noted one woman attorney surveying the crowd during the cocktail hour.
In fact, two of the three recipients of the organization's outstanding achievement awards were men: Richard J. Mack of Apollo Real Estate Advisors and Kent Swig of Swig Equities.
Hey, Mr. Swig, how does it feel to be one of the top women in real estate?
"It feels lovely," he said, laughing, following the presentation, "although I don't want to tell my wife that I'm a top woman in real estate."