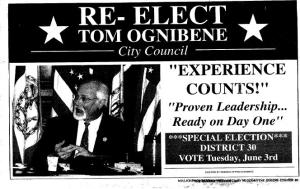 Tom Ognibene's ad in the latest Queens Courier asks residents to "re-elect" him to the City Council in the June 3 special election.
Ognibene, a Republican, is the former councilman of that Middle Village district, but was term-limited from office in 2001. His successor, Dennis Gallagher, resigned after pleading guilty to sexually assaulting a woman who was also a constituent. Next month's election is for the remainder of Gallagher's term, then the winner will have to run again later this year.
If Ognibene wins (the leading Democratic candidate is Elizabeth Crowley, cousin of the Queens County Democratic leader Joe Crowley), it will only be a re-election in the most literal way. But now that the first crop of term-limited council members are eligible to run again, I wonder if we'll see this "re-elect" line again.