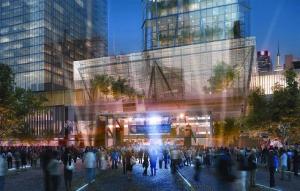 The Metropolitan Transportation Authority has reached a tentative deal to award development rights for the West Side rail yards to the Related Companies, according to a person familiar with discussions. The deal for the 26-acre site on Manhattan's West Side comes less than a week after the M.T.A. broke off talks for the property with Tishman Speyer, the major development firm that was announced the winning bidder in late March.
Related, one of the city's largest developers and the owner of the Time Warner Center, seemed to be a leading contender earlier in the process until its anchor tenant, News Corp., failed to commit to the site.
Ultimately, Related only sought to win the rights to the western half of the site, effectively taking itself out of the contest as the other bidders did not want to share.
After the deal with Tishman Speyer collapsed, the M.T.A. began looking back at its other remaining bidders—Related, a joint venture of the Durst Organization and Vornado Realty Trust, and Extell Development Corp.—and last week passed around a draft of the designation letter that was to be signed with Tishman Speyer. Such a quick turnaround suggests the terms of the Related deal—or at least the structure spelled out in the designation letter—are likely similar to those of the Tishman deal.
Unlike the Tishman Speyer bid, Related's proposal submitted in February relied heavily on residential. According to a summary of the bids from the M.T.A., Related called for about 4.6 million square feet of commercial office space four buildings, accompanied by more than 5,000 apartments. Tishman Speyer, by comparison, called for about 3,200 units of housing and five office towers totaling more than 8 million square feet.
An M.T.A. spokesman did not return calls seeking comment, and a spokeswoman for Related declined to comment.