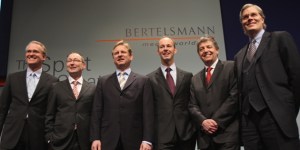 The Wall Street Journal has the story: Peter Olson's successor at Random House Inc. has been selected, and it's a German guy whom none of the publishers in New York have ever heard of. The name is Markus Dohle, and he comes from Arvato, the printing operation at Bertelsmann.
Mr. Dohle took over the top job at Arvato for Hartmut Ostrowski, who became chairman of the entire Bertelesmann corporation this past January. Mr. Ostrowski chose one of his own in nominating Mr. Dohle for the Random House appointment— a move many stateside industry observers predicted in recent weeks amid whispers and speculation that seems to come up basically every time a Random House C.E.O. abruptly leaves his job.
Initially, when news of Mr. Olson's imminent departure broke earlier this month, it seemed like Gail Rebuck, C.E.O. of Random House U.K., was the clear favorite because she had done such a good job consolidating and centralizing back-end operations for the U.K. group after the Bertelsmann merger in 1998. Ms. Rebuck seemed a logical choice to those who believed that Mr. Ostrowski was looking for Mr. Olson's replacement to carry out precisely that operation in the States— that he wanted someone to bring the various divisions at Random House, profoundly autonomous under Mr. Olson, to be brought in sync with each other.
Many didn't think Ms. Rebuck had a chance, and predicted that Bertelsmann would choose someone from their own midst. One could detect a little disappointment, perhaps, when American publishers said they thought the new C.E.O. would probably be a German. As far as these people were concerned, Joerg Pfuehl, who heads what is basically Random House Germany, was the heir apparent.
The contest thus shaped up in the minds of the uninformed but curious as a race between Ms. Rebuck and Mr. Pfuehl. Then, on May 11th, the Financial Times reported that both of them were out of the running and that Mr. Ostrowski was "expected to opt for a Germany-based executive from either media services division Arvato, the unit he once ran, or book-clubs unit Direct Group."
With that, the guessing basically stopped in New York.
And so today begins the process of getting to know Mr. Dohle. Here's a quick take on the facts from the Journal piece: Mr. Dohle is 39 years old, and he's been working at Bertelsmann since he graduated from college in 1994 with a degree in industrial engineering and economics. He has never worked in the publishing industry before, andis described as "entrepreneurial."
UPDATE: A letter Mr. Olson sent to staff this morning (thanks to Publisher's Lunch for hosting the PDF) says that he and his wife have purchased an apartment in Harvard Square, and that he is close to finalizing the details of a senior faculty position at a "nearby" university that he will take on after he steps down on May 31. Chances are he is talking about Harvard, since he and his wife both went there, but isn't Harvard "in" Harvard Square, not near it? Maybe it's MIT or Tufts?
In the letter, Mr. Olson said he had discovered for academic life during the two month sabbatical he took to recuperate from double pneumonia at the end of last year:
These past ten years have been the best and happiest of my life. As wonderful as they've been, I still have one professional dream that remains unfulfilled: an academic life. While out of the office late last year recuperating from double pneumonia I reflected on what's next for me as I near sixty—and when would be the right time to start to pursue it. With a 100 percent clean bill of personal health and our company completing its tenth year in a very strong and healthy state, this seems like the right moment for me to try something new.