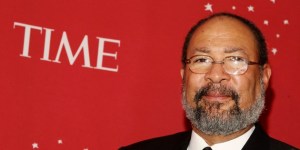 According to Reuters, Richard Parsons, Time Warner's chairman, is planning to step down in 2009. "This is my last shot at this," Parsons is quoted as saying during a shareholders meeting. "I will be the outgoing chairman after this year, probably."
Get ready for journalists to start another round of the "Richard Parsons, future New York City mayoral candidate" meme.
Flashback: AOL-Time Warner's New Chief, Richard Parsons, Makes His Social Debut, December 23, 2001.