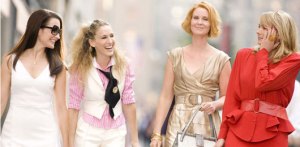 Sex and the City
Running Time 145 minutes
Written and Directed by Michael Patrick King
Starring Sarah Jessica Parker, Kim Cattrall, Cynthia Nixon, Kristin Davis
There's nothing wrong with Sarah Jessica Parker that couldn't be cured by wart-removal surgery. That growth on her face just gets bigger with every close-up, and in the full-length movie version of Sex and the City it's so distracting you can't concentrate on anything else. It's not a beauty mark. I guess you can't tell a co-producer anything, but listen up, girl. At this point, you would make a wonderful Halloween witch. Unfortunately, to fix all the things wrong with Sex and the City, you need more than a scalpel.
So what can I tell you? It's a chick flick about sex and the city and I'm not a chick, I'm not getting any, and I live in the country. I guess I'm not the target audience. (Who is? Candace Bushnell, who invented Sex and the City right here in the pages of The Observer, lives on the next road.) But I was a follower in the days when it was a series of autobiographical newspaper columns (the heterosexual East Coast equivalent of Armistead Maupin's "Tales of the City" in The San Francisco Chronicle), and I admired the liberties it took with sexual politics when it became a book in 1996, then a 94-episode HBO series from 1998 to 2004. I chuckled over the nudity, the witty one-liners and the sophisticated smut dreamed up weekly by four cosmo girls who eat endless salads, blather nonstop about their orgasms and believe there is no crisis in life so serious that it cannot be solved by Manolo Blahnik. It was inevitable that the detritus of their sex lives would end up pasted into a full-length movie. What's next? A Broadway musical?
Weary of comic-book escapism, alien invaders, flying superheroes in corny costumes and computer-generated images masquerading as entertainment, I was anxious to embrace a movie about real people. But there's nothing real about Sex and the City, or anyone in it. The movie has retained the services of the TV series' writer-director, Michael Patrick King, who lacks the talent and imagination to sustain the pace for two hours and 25 minutes on the big screen. The girls who munch are now ladies who lunch—in all the wrong places. They're supposed to be hip barometers for everything fresh and trendy in the Big Apple, so why do they hang out in Bryant Park and the Four Seasons? Real trailblazers would be photographed at the Beatrice Inn, Rose Bar in the Gramercy Park Hotel, Café Cluny and Gemma in the Bowery Hotel. If you want to see the on-target Sex and the City, watch TV's new insider sensation, Gossip Girl. They really get it right.
Next, there's the age problem. Too long in the tooth to pout, whine and babble about their wet dreams, they're affluent and successful for reasons that are never clear, but rarely seen working at whatever it is they do to pay for all those poker games with $300 Hermes playing cards. Carrie still searches for labels and love, and her loyal gal pals are still joined at the libido. Samantha (Kim Cattrall), the group slut, has moved her PR career to a fabulous glass beach house in Malibu, where her only client seems to be her No. 1 squeeze, Smith (Jason Lewis), who works as a hunky TV doctor (think Patrick Dempsey) while his girlfriend spies on the naked hunk next door. Smith is a real catch with a sense of humor (he presents Samantha with a $5,000 diamond ring inside his jockey briefs by pretending it's an erection). Miranda (Cynthia Nixon) is a wife and mother, too preoccupied as a lawyer (although she is never shown trying a case or filing a brief) to realize she's jeopardizing her marriage to nice-guy bartender Steve (David Eigenberg). WASP-y, uptight Charlotte (Kristin Davis) exchanged handsome husband Trey (Kyle MacLachlan) for fat, bald, Jewish Harry (Evan Handler) and adopted an Asian daughter. The problem: No longer girls but too shallow to be women, they are now predatory 40-somethings (Kim Cattrall is 52) who have learned nothing restorative about their past mistakes in the Porthault sheets. They've turned into what the girls in The Devil Wears Prada would call cougars. Worse still, for experts on glam, it's amazing how many unflattering shots all four women are forced to endure. The accessories glitter more than the cast.
Still, I give them credit. They're not angels, but they're still here, working hard to please their fans, like plow donkeys wearing lipstick. Why are they so obsessed with orgasms? Can you imagine Grace Kelly in Rear Window telling Jimmy Stewart "Well, now that you're in a wheelchair I have to dump you—you can no longer give me orgasms." Even the women in The Women never sat around discussing their orgasms (and if there was one women in Hollywood who was actually having them, it was Joan Crawford). With so much about sex and so little about life, what little there is of the plot has been chloroformed. After laying what seemed like all of the eligible bachelors in Manhattan and half of Brooklyn, Carrie Bradshaw (Parker) has at last agreed to marry the dullest of them all, Mr. Big (Chris Noth). (A chick who once spent a week in Paris with Mikhail Baryshnikov, settling for dull? I doubt it.) Carrie is a neurotic black-belt shopper and occasional columnist who types on her laptop in marabou feathers. She's also the only freelance writer I ever heard of who can afford to hire a personal assistant to separate her Manolos from her Jimmy Choos. (A flimsy excuse to give Jennifer Hudson her first job since Dreamgirls; she spices up a few scenes, but fails to save the movie.) When Carrie's Vogue editor (Candice Bergen, who is finally showing her age but still can't act) recruits her to model wedding gowns for a gala bridal issue, it's an excuse for another fashion show. Predictably, Big, an unreliable egomaniac with mysterious millions (something to do with Wall Street, natch), dumps her at the altar in a Vivienne Westwood bridal gown that looks like a cloud of lemon meringue pie. Well, would you want to get married in the New York Public Library?