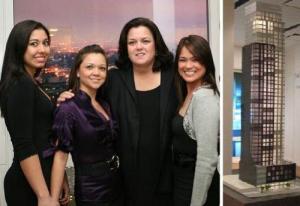 Being Rosie O'Donnell means you get to have Donald Trump say funny things about you very loudly, and you get to blog in lower-case verse ("a new musical on broadway/ my god i loved it/ i dont have the words/ to explain its brilliance"), and buy the scale model of your new Manhattan condo building.
Last summer, the ex-talk show host signed a $1.97 million contract for a two-bedroom pied-a-terre at the new steel-and-tinted glass condo called Platinum, on West 46th Street. But at a party she threw in the building's sales center last month–a fundraiser for her charity Rosie's Broadway Kids–Ms. O'Donnell was overheard saying that she had liked the condominium's model so much she wanted to buy it from the developer. And the developer, called SJP Residential Properties, agreed to sell it.
When celebrities are happy, the developers who sell to them are happy, and then the world is completely at peace with itself.