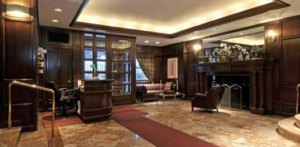 Putin and Bush no longer gaze soul-searchingly into each other's eyes, but despite the two nations' dissolving comradeship, Russians, even friends of the Kremlin, keep buying up massive New York condos.
Earlier this month, around the time that two American military attachés were expelled for their visit to a Siberian military factory, the Moscow-based Valentin Yudashkin, probably the country's most famous fashion designer (and the man hired by the Russian Defense Ministry last year to redo its uniforms), bought the duplex penthouse at the Curzon House on East 62nd Street.
According to city records, he paid $5.7 million.
"If I recall, he came into the apartment almost on the way to the airport, saw the apartment, liked it, and the next day his broker started negotiating," listing agent Roger Erickson said, though he wouldn't comment on the deal itself.
"Truthfully, I'm actually working with some very significant Russian buyers right now, but they're great buyers," he said. One of them invests for Russian billionaires, he said, and the other has the local rights to western jewelry brands like Tiffany's. "I've worked with Russians involved in bricks; it's just amazing, so many different industries that became extremely profitable."
Mr. Yudashkin's broker, Adam Modlin, took his client to see the Plaza, where there are Kremlin friends like banker Vladimir Stolyarenko (plus critics like Russian gambling titan Boris Belotserkovsky). New Yorkers assume Russians want name-brand condos, Mr. Modlin said, "but it turned out surprisingly not to be the case here, and in fact this client is very low-key and unassuming."
It's true that Curzon House is relatively low-key, but still the duplex penthouse has 10-foot ceilings, a 26-foot-long living room, 1,700 square feet of roof terrace space, two bedrooms with skylights, even a view into Joan Rivers' apartment, both brokers said.
Moments after signing the contract, according to Mr. Modlin, one of the designer's Russian dignitary friends said he wanted a condo just like it. "I represent a bevy of these Russian oligarchs and influential government-related types, and so like anything else, similar to the way I represent the top people in professional sports"—A-Rod and Johnny Damon are clients—"these are small groups of people that are all related."
As for Mr. Erickson, he said his two Russian clients are looking at condos priced between $20 million and $50 million. "I actually have things that are not officially for sale that are asking over $100 million"—no New York City residence has ever been listed for more than $70 million—"so $50 million now isn't all the way to the top."