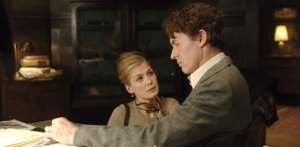 Poor Speed Racer! The much-maligned flick from the wacky-pants Wachowski brothers failed to make even a dent in Iron Man at the box office last weekend. Adding insult to injury, Speed Racer's opening-weekend earnings were just about even with the Cameron Diaz-Ashton Kutcher romantic comedy What Happens in Vegas, which cost a whole lot less to make. Yeouch. Iron Man's charmed run could come to an end this weekend, though, as the The Chronicles of Narnia: Prince Caspian hits theaters. Bring on the Tilda Swinton!
IN QUIETER, NON-SPECIAL-EFFECTS film news this weekend, Fugitive Pieces opens at the Quad Cinema. Based on the prize-winning novel by Anne Michaels, the film opens during World War II, where Jakob, a young Polish boy, witnesses the murder of his parents by Nazis, who then abduct his beloved sister. Jakob hides in a forest, and is rescued by a kindly Greek geologist (Rade Serbedzija), who smuggles him to Greece for the duration of the war, and then emigrates with him to Canada. Unsurprisingly, grown-up Jakob (Stephen Dillane) has loads of issues, frozen in a place where he can't bear to remember things from his past, and yet unwilling to forget them.
For a film that covers such difficult ground, Fugitive Pieces stays true to the poetic language of its source material, and is a remarkably dreamy and lyrical movie (its director, Jeremy Podeswa, is the son of a Holocaust survivor, and clearly had an emotional connection to the story). Time flashes back and forth between 1940s Poland, '60s- and '70s-era Canada, and the whitewashed splendor of past and present-day Zakynthos—an island that seems too beautiful for any sort of atrocity, German or otherwise. Beautiful women appear to be Jakob's undoing and, perhaps, salvation: As visions of his pretty older sister haunt him, his first marriage to a vivacious chattering blonde (played wonderfully by Rosamund Pike, who portrayed Jane Bennett in Pride & Prejudice) implodes, and he seems doomed to a loner's life, scribbling his thoughts into a notebook.
We happen to be on a major Stephen Dillane kick at the moment, between his portrayal of Thomas Jefferson in John Adams and as an upper-crusty aristocrat in the upcoming Savage Grace. And remember his sweetly suffering Leonard Woolf in The Hours? He's the perfect actor for this particular role, as he's able to convey a symphony's worth of emotional turmoil without saying a word. Dear Hollywood, more Dillane please!
Fugitive Pieces opens on Friday at the Quad Cinema.