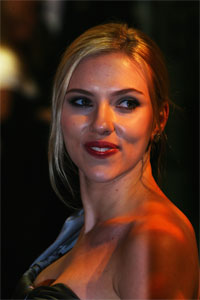 Despite her album hurting many a critic's ear, Scarlett Johansson did a Q&A with The Wall Street Journal to promote it. In the interview, Ms. Johansson explains why the album consisted of only Tom Waits songs, talks about working with David Bowie ("It was a huge dream come true for me"), and how recording an album is just so similar to filmmaking. Perhaps the best part of the interview is when the actress acts like, 'Oh, did I get bad reviews? I didn't even notice!'
WSJ: Are you nervous about your reviews?
Ms. Johansson: I have no concept of critical bashing or acclaim or anything like that… I guess I'm removed from them.
WSJ: So you don't let reviews effect you?
Ms. Johansson: The whole experience of recording was so personal and so isolated, I never thought about having to have people analyze it. It's something that all of us really did as sort of a blue valentine for Tom Waits. Even with films, my attitude is usually, just go in and do your job and hope for the best. Reviews are kind of a strange thing.
She continues to play the clueless card when the reporter asks her about her recent engagement to Ryan Reynolds.
WSJ: Congratulations on your engagement, to Ryan Reynolds. Is all the press attention surrounding that stressful?
Ms. Johansson: I don't have a TV right now so I don't really know what's going on out there. It's a very exciting and wonderful time. I guess it's weird to have people on the streets out there [mention it] to you that you've never met before. I have people coming up to me on the street saying, "Congratulations!" And I'm like, "For what? Did I win something?" It's such a personal thing, but I guess it's part of the whole circus.