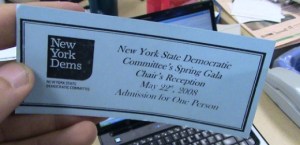 Here's a ticket that intern Em Whitney and I scored as a souvenir from last night's State Democratic Party fund-raiser at 41 Broad Street. Since the event was closed to the press, we didn't actually make it inside, but we did get to chat with a few people outside about Hillary Clinton's presidential campaign and other topics of interest.
First, I asked Sheldon Silver about David Paterson's remark that Clinton was showing "desperation" by claiming a lead in the popular vote.
"You know what, I'm here in New York," said Silver. "I don't go for the numbers. I have no idea. But I like Hillary. She'd make a great president."
State Comptroller Tom DiNapoli, who spoke to me after the event, said Clinton shouldn't drop out. "At this point, let it all play out," he told me.
A very upbeat June O'Neil was, well, upbeat. "I predict the next president of the United States will be a Democrat," she said.
O'Neil revealed she had just returned from the inauguration of Taiwanese President Ma Ying-jeou. Cindy Darrison, who was standing nearby, said (as a joke?) that O'Neil who was at the ceremony to get ready for Clinton's inauguration.
"The opening ceremony of the inauguration was like the opening ceremony of the Olympics," O'Neil said. "Two hours of entertainment."
Also at the event were Tom Suozzi (who laughed off a suggestion by Democratic operative Gary Tilzer to bring back the "Fix Albany" campaign), State Senate Democratic Leader Malcolm Smith, City Council Speaker Christine Quinn, former State Democratic Party co-chair Dave Pollak, and former Assemblyman Ryan Karben.