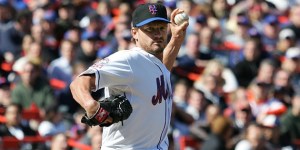 It is a peculiar irony of this largely disappointing Mets season that one of the loudest sustained cheers any player at Shea received this year was on Sunday, May 11, for left-handed reliever Scott Schoeneweis, quite possibly 2007's least popular Met.
Schoeneweis kept a sense of humor about the fan reaction. He claims never to hear plaudits, only criticism. Therefore, on Sunday, he heard only an absence of boos.
"It was kind of eerie," said Schoeneweis as he dressed at his locker prior to New York's 1-0 loss Thursday to the Washington Nationals. "You get used to it, I guess. It's like people who live in the city and move to the country, how they can't sleep nights."
Schoeneweis lowered his ERA to 1.50 with a 1 2/3 inning, three-strikeout performance against Cincinnati on May 11. But his success—and last season's failures—have little to do with his pitching, and everything to do with how he is used. Scott Schoeneweis is a terrific relief pitcher—against left-handed hitters only. Against lefties, Schoeneweis is Barack Obama in North Carolina. Against righties, he is Obama in West Virginia.
"That's pretty much what my job is," Schoeneweis said of pitching to left-handed hitters. "That's what I was brought here to do."
But after the Mets inked Schoeneweis to a three-year, $10.8 million contract prior to the 2007 season, Manager Willie Randolph didn't use him as a lefty specialist—he deployed Schoeneweis time and again against right-handed hitters. There was ample evidence that supported keeping him in the specialty role—which Randolph ignored.
Schoeneweis has a career line of .226/.301/.297 against lefties, which is superb, and .293/.364/.466 against righties, which is not. Yet even in the first half of 2007, when the Mets had an effective Joe Smith from the right side, along with righty Aaron Heilman and lefty Pedro Feliciano, who are capable against both righties and lefties, Randolph used Schoeneweis against predominantly right-handed hitters.
The results shouldn't have been surprising. Schoeneweis' ERA was an unsightly 5.24 in the first half, largely on the strength of five home runs—all by right-handed hitters. From a three-run blast by Edgar Renteria that tied a game on April 22 (a game the Mets lost), to an extra-inning blast by Brendan Ryan on June 26 that cost New York another game, Schoeneweis became the public goat—all while pitching very well against lefties.
Coincidentally, all five home runs came at home, which helped Schoeneweis to a 6.91 ERA at Shea for the season, and helped fans to heap scorn upon him all year long.
To be sure, Schoeneweis was also battling a torn tendon in his leg, an injury that couldn't be repaired with surgery. Instead, Schoeneweis needed to strengthen his leg in the weight room to compensate for the injury.
"I was not able to fine-tune myself physically as the season went along and pitch effectively," Schoeneweis said.
But what is amazing about his pitching through injury in 2007 is that his success did not dramatically change against lefties, nor did his problems against righties. For the season, his line against lefties was .204/.308/.247—against righties, .316/.390/.574. But Randolph used Schoeneweis in 157 plate appearances by righties, and just 108 by lefties. Nearly 60 percent of the time, Schoeneweis faced hitters he'd proven for seven years that he couldn't get out.
Randolph appears to have learned his lesson with Schoeneweis, who has faced more lefties (24) than righties (23) so far this season. He is holding lefties to a .095/.174/.238 mark, while righties are at .381/.391/.524.
But with Heilman continuing to struggle, Randolph may be tempted to expand Schoeneweis' role, rather than use Feliciano, Matt Wise or, to a lesser extent, Duaner Sanchez, all of whom have shown the ability to get hitters out on both sides of the plate.
The night Schoeneweis got cheered, he entered a 6-3 game in the top of the seventh inning. A righty, David Ross, grounded out. But then righty Ryan Freel singled. He was caught stealing, and Schoeneweis then struck out Joey Votto, a lefty, to end the seventh.
Randolph stuck with him for the eighth—fortunately for him, the Mets had added a pair of runs, making the situation less tenuous. Schoeneweis struck out Ken Griffey Jr., a lefty. The next two hitters, Brandon Phillips and Edwin Encarnacion, both right-handed, singled. Schoeneweis came back to strike out Adam Dunn, a lefty, and Jeff Keppinger, a righty.
His totals? Lefties were 0-for-3 with 3 strikeouts. Righties were 3-for-5, for a .600 batting average.
Schoeneweis acknowledged that it would be easier to have a defined role, but said, "Certain guys struggle at times, and the roles change. If that guy's not going well, you get a try."