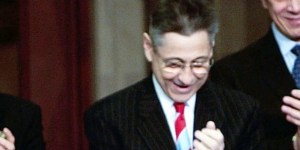 There was some expectation that Sheldon Silver would attend the Stonewall Democratic Club annual fund-raiser on West 26th Street last night, since he already had a ticket, but the Assembly speaker didn't make it.
He did, however, send spokesman Dan Weiller, who is openly gay.
Silver's recent donation to the club was his first. The speaker has supported gay rights in the past, even voting in favor of gay marriage in the Assembly, but given that he is facing two primary challengers and is also an Orthodox Jew, his attendance would have been notable.
At the event, Weiller told me Silver had other obligations, so it was unclear if he'd attend. Weiller did not know offhand the details if where Silver was. At 9:30 p.m., Weiller said Silver would not get there because he was at other events in the district.
Liz has video from that event.