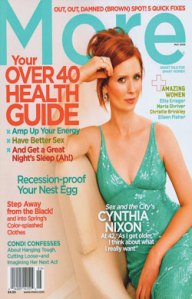 The media campaign for the Sex and the City movie, which arrives in theaters May 30, was executed with near-militaristic precision. You might call it "flooding the zone."
Vogue, which itself has a recurring role in the franchise, easily secured the big kahuna: 43-year-old Sarah Jessica Parker on the cover and an elaborate photo shoot featuring her posing with Chris Noth, 53 (Mr. Big): on top of a skyscraper, on a red carpet, in the bedroom making sex tapes! (Earlier in May, New York magazine devoted eight pages to Emily Nussbaum's interview with Ms. Parker, in which the latter woman discussed how she had changed the city and how it makes her a little uncomfortable.)
Curiously, it was homosexual icon Kim Cattrall, 51, rather than actual lesbian Cynthia Nixon, 42, who made the cover of gay-interest publication The Advocate. Ms. Nixon, for her part, scored the cover of middle-aged women's publication More, as well as an interview with Deborah Solomon in The New York Times Magazine (she does play a Harvard-educated lawyer, after all); the demure Kristin Davis, 43, graced the cover of Health and dispensed cooking tips in a Bon Appetit feature.
Marie Claire had four covers … of each girl. And Next, the glossy club guide that you find when stumbling out of gay bars, also got "exclusives" with all four, trading their customary cover fare of scruffy models in swim trunks for a shot of SJP lying face first with red heels dangling in the background. "You think since we're not screwing around a lot the gays aren't going to be interested?" she asks her interlocutor. Then she answers: Nah, they'll be fine!
What about the men? Jason Lewis, who plays Ms. Cattrall's underwear-model boyfriend, got a Men's Fitness cover. The Times' Arts and Leisure section did a Serious Interview with writer-director Michael Patrick King. And Array magazine landed the big exclusive with Sex and the City production designer Jeremy Conway!
Meanwhile, Time Out New York got creative, doctoring a stock photo of the gals to make it look as if they've been muzzled by masking tape and relegating its features about the movie to the Web. "ENOUGH ALREADY," the headline blares.
"Everyone is looking for some sort of an angle!" brightly said Robert Pini, a spokesman at New Line Cinema, who arranged much of the saturation coverage. "It's like everyone is trying to dissect it and slice it and dice it to come up with a fresh angle."