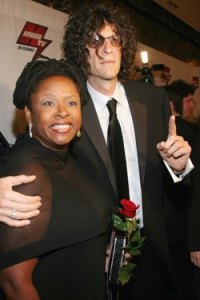 Back in 2004, Howard Stern's sidekick Robin Quivers pledged to leave the U.S.A. if George W. Bush was re-elected. Last November the shock-jock's wing woman did sell her Staten Island home for $1.2 million, but it appears Ms. Quivers only intended to flee the borough, not the country.
She has paid $2.4 million for a 1,486-square-foot condo at the new, Costas Kondylis-designed building, 200 West End Avenue, city records show. Ms. Quivers took out a $1.9 million mortgage on her two-bedroom, 22nd-floor, Upper West Side apartment.
The building's developer, The Clarett Group, promises sprawling city views on 200 West End Avenue's Web site, and Ms. Quivers is used to "panoramic vistas" after living in the Todt Hill neighborhood of Staten Island, the highest natural point on the Eastern Seaboard south of Maine.
Otherwise, her new digs are a far cry from the 1.6-square-mile, suburban nabe she lived in on Staten Island.