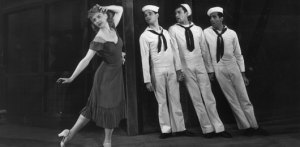 You may have noticed that Jerome Robbins is being celebrated all over the place. And why not? He's worth celebrating. But why now? Because it's about to be his 90th birthday? We usually organize these things (as we did for Balanchine) for the centenary. Why this case of premature celebration? Could it be that City Ballet, to pump up box office for the spring season, took to heart Stephen Sondheim's words from what was arguably Robbins' greatest musical: "You gotta have a gimmick!" (There's synchronicity for you: Gypsy is in the midst of a successful revival just down Broadway from the State Theater.) And 10 years from now we can do it all over again.
Thirty-three Robbins ballets are being shoehorned into the nine weeks just begun. First on view, after the opening-night gala, was Fancy Free—definitely the appropriate choice. It was his first ballet, and probably his greatest; it's simply irresistible. The time was 1944—wartime. The fleet was in. Sailors were all over town. And Robbins had the genius to soak up the atmosphere, the feel, of New York just then: the way these horny boys away from home moved and fooled around and swaggered, and wanted not just the sex girls could provide but the comfort. Yes, they're raunchy, but they're also dreamy. And part of the fun was that there in the old Met—in between the Swan Lakes and Petrouchkas—was a dead-on representation of the life that was happening around the corner in Times Square.
I was taken to see Fancy Free back then, with its first cast (including Robbins himself as the rumba boy), because Ballet Theater had come up with a matinee special "for boys"—Rodeo, Billy the Kid, this new piece—and my mother thought the program might hook me on ballet in a way that her first try, Giselle, hadn't. As it happened, I didn't get the cowboys any more than I got the Wilis, and I wasn't hooked until Balanchine hooked me four years later. But I never forgot the sailors and the girls of Fancy Free.
Today, 64 years later, the ballet still works its wonders. It's classical, yet American; it's funny, yet touching; its perfect structure and apparent easy-come fluency hold up. But in some ways, it's a different ballet, just as the '40s were different from whatever we call this first decade of the new millennium. Janet Reed and Muriel Bentley are nice young working girls—secretaries, shop assistants. On their way home, they run into these nice young boys in uniform on a street corner. They're wary, but what's wrong with a bit of fun? (Besides, you have to help keep up the morale of the U.S Navy.) They flirt a little, but they're not worldly. Today's girls (Amanda Hankes and Tiler Peck) are far more knowing, more suggestive; they're reflecting our own moment, not the original moment of Fancy Free.
And today's guys aren't innocent, either—not as sailors but as dancers. Of course, with the three gobs danced by Damian Woetzel, Joaquin De Luz and Ethan Stiefel (on loan from ABT), you've got nothing to complain about. But they tend to nail down the jokey things; they're not as simple and natural as Robbins wanted them to be. They're on the road to shtick. So the whole thing becomes more a comment on the '40s than an expression of them.
THE RETURN OF Dybbuk to the repertory last season was an ill omen. This is one of Robbins's High Serious pieces. Talk about lugubrious! (And that goes for the Leonard Bernstein music as well, in unfortunate contrast to his jubilant score for Fancy Free.) This Kaballah-inflected piece is like a penance for the Low Seriousness of Fiddler on the Roof. Sacred ritual, supernatural beings, possession, exorcism—you name it. But although Dybbuk is deadly sincere (and very long), it's empty. This is typical of Robbins whenever he gets weighty. In his hands, the frightening dybbuk story conveys no feeling. It's just how I remember his Mother Courage on Broadway (with Anne Bancroft): It was fine-tuned, clear—and sterile.
The best part of Dybbuk is the set of variations for the men, and they were very strongly performed. But the happiest thing about it was Janie Taylor as the heroine. With her combination of exquisite lyricism and powerful emotion, she's not like anyone else in the company. (In this regard she's a little reminiscent of Allegra Kent.) Taylor seems finally to have recovered from the illness that kept her off the stage for so long, and with luck she'll be making more than sporadic appearances from now on.
The boy was danced by Benjamin Millepied. He's a light dancer, more airy than earthy, and that quality suits Dybbuk. He kept reminding me of Helgi Tomasson, although he doesn't have the ultimate polish of Tomasson's technique; only later did I remember that it was Tomasson who originated the role in 1974.
Millepied is also back as the lead in the climactic "Fall" section of The Four Seasons, a role less suited to him: Here he lacks the necessary bravura presence, although Daniel Ulbricht as the faun makes up for it. Ulbricht can—and does—toss off every technical trick, and charmingly, but he needs refining. The crucial role in "Spring," the Kyra Nichols role, is again being danced by Sara Mearns, and she's come a long way. She's shedding that sluggish quality that weighed her dancing down; she's beginning to phrase; and she's even beginning to look as if she's having fun. What she needs is more coaching. I'd like to believe that she took the bus out to New Jersey and got some help from Nichols herself. If she didn't, it's not too late. The Robbins Trust—or the ghost of Jerry Robbins—should insist on it. The Four Seasons, one of his most pleasing works, deserves the best.
ON THE SAME program we had the return of Watermill, that stupefying slo-mo neo-Noh pastiche that Robbins concocted in 1972, in the wake of Robert Wilson. It was Edward Villella who had to strip to his dance belt on the Watermill beach and meditate on his past in the midst of Japanese-y effects and to the sound of Japanese-y modern music. A moon waxed and waned, rose and set. There were sowers and hoers and reapers. There were paper lanterns and reeds. The night passed … the seasons passed … the years passed. Eons passed. The only interesting thing about it was watching a dynamic, explosive dancer like Villella project such stillness and inward concentration.
In 1990, Robbins browbeat Villella (at 53) into doing it again. Off came the pounds, on came the dance belt, and nothing had changed, except that we were all 18 years older.
And now, after yet another 18 years, it's with us again, with Nikolaj Hübbe emerging from last year's retirement to don not a dance belt but jockey shorts. Nor is that the only difference between his performance and Villella's. Hübbe, a wonderful dancer always, isn't explosive. He's more sculptural, more gracious, more sensitive; less charged with virility and charisma. So there's less contrast between the dancer and the relentlessly passive role. And that leaves nothing interesting at all about Watermill except the phenomenon of those people who take it seriously.