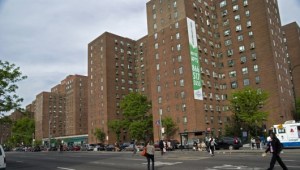 From the New York Post this morning:
To attract new residents, the complex is adding 200,000 plants, 10,000 trees and has put in a fancy new gym. Pets, which were once a huge no-no, are now everywhere. And the complex is offering more free movie nights, cocktail mixers, sports leagues and outdoor events.
"They had this great Halloween thing that I took my niece and nephew to where they had this cornstalk maze," says Erika Ward, who moved into Peter Cooper Village with her boyfriend more than two years ago. "And they have all different activities like wine tastings. They have ski trips, which we haven't gone on yet, but we'll check out next year. And they have a Hamptons shuttle."
From The New York Times on Monday:
Edward Stanley, 53, a retired police detective and Stuyvesant Town resident for three decades, said he and his wife each sat through a two-hour deposition after Tishman Speyer accused the couple of living in the summer house they own on Long Island. "They asked my wife if she kept a toothbrush in the apartment in Manhattan," said Mr. Stanley, referring to the lawyers representing Tishman Speyer. "You're being forced into a position where you have to justify your existence to these people."
His legal fees have exceeded $5,000.
Is it heaven or hell–or some sort of purgatory–living in Stuy Town?