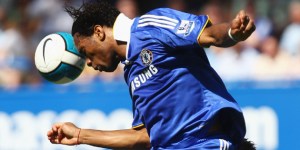 As literally handfuls of Americans were no doubt aware, the climax to the just-concluded Premier League season in England was one of the closest in years. Chelsea and Manchester United went into the last match of the season level on points, the only thing separating them being goal difference. United won.
Happily, these same two teams also meet in the final of the Champions League in Moscow on Wednesday, May 21, providing an opportunity for Chelsea to laugh last by winning Europe's biggest prize.
This is a trophy that Manchester United have won twice before, the last time when David Beckham was still with them, while Chelsea have never even been in the final. If Chelsea win it, it will fully vindicate team manager Avram Grant, a quiet Israeli who has suffered from negative comparison with his predecessor, the flamboyant Jose Mourinho, and give him the opportunity to blow a raspberry in the direction of his critics.
This is no small thing. In fact, the respective demeanor and general behavior of the two teams' managers this is one of the most compelling factors to recommend Chelsea over Man U to the impartial observer.
(Although really, what's the fun in being an impartial observer? I tried watching Italian football, a very elegant and tactical game, for a while, but finally had to give up in boredom since I couldn't decide which team to support. This was mainly because there weren't any English players involved, precisely because the Italians are interested in keeping their game elegant and tactical. But I digress.)
Few would accuse the United manager, Sir Alex Ferguson, of being a charming man. He once refused to have any direct contact or communication with his secretary at one club for six weeks because of a disagreement over payments. Currently he refuses to give any interviews to the BBC because they had the temerity to criticize him. This is not the behavior of a mature adult. Moreover, his antics on the touchline, where he effs and blinds at every decision given against his precious team, set a poor example for supporters, especially young ones. This is not to mention his infamous temper off the pitch, which has driven countless good players away from United. (Who can forget the errant boot that nearly destroyed Beckham's good looks?)
By contrast, Avram Grant is an avuncular and softly spoken chap, the kind who doesn't like to blow his own trumpet. He's no stranger to criticism, but this doesn't stop him giving interviews with the media. He wears sober suits and doesn't shout at referees when decisions go against his team, but accepts them with good grace and near equanimity. In short, he is the kind of role model we want for players and supporters alike. He is not a cantankerous old dictator.
But football isn't really about managers, it's more about players and the way of playing. A brief look at the way Chelsea and Manchester have reached their current positions may be revealing. Two of Manchester United's key matches leading up to season's finale were the match against Arsenal in the league on 13 April and the two-leg Barcelona Champions League semi-final. Any impartial observer of the Arsenal match would tell you that Arsenal deserved to win it in terms of the style and quality of football they played. Of course, there are no style points in football, and the uglier team won.
United's tactics for the Barcelona semi-final seemed to be simply to keep out their opponents, who played much the better football over the two legs. Manchester, a side loaded with expensive talent, played like a team that had accepted it was weaker than its opponent and only had the option of holding out and hoping for a lucky goal, which they duly got in the return match when Paul Scholes mis-hit a shot that sliced into the back of the net.
Then there's Chelsea. Despite being counted out of the title race in February, when, at one stage, they were nine points behind the leaders with a match in hand, they clawed their way back into the reckoning. They beat Arsenal by coming from behind, and then United, to keep the title race alive.
Then they showed the courage to overturn Liverpool's apparent hold over them in Champions League encounters over recent seasons, producing a stunning display in extra time to see off the Spanish Scousers and condemn Rafael Benitez to another trophy-less season. Heroic stuff.
But forget all that. Never mind Grant's moral superiority to Ferguson, or how the teams got to where they are. Chelsea are, put simply, a team for the more discerning football fan. Chelsea have got real fans, not ones they borrowed from Liverpool after taking the Merseysiders' crown as the top team in England.
Long-suffering Chelsea fans like me can remember when, not so long ago, the team wasn't – how to put this? — good. At all.
I was at a match between Chelsea and Leeds at Stamford Bridge in 1996 when, some time towards the end of a contest in which Chelsea had been consistently outplayed, they were trailing 1 – 4 to the Yorkshire team. The Leeds away fans, looking to rub it in, broke into the old favorite You're shit, and you know you are chant (which, as we all know, is sung to the tune of "Go West.") The prompt response from the Chelsea fans, to the same tune: We're shit, but we've all got jobs.
Our winning wit was small consolation in the early seasons of the Premier League, when Chelsea never finished higher than 11th in the table. But we knew what we were signing up for.
Chelsea fans support Chelsea because we have some connection with London; we will follow the team through thick and thin. Man U fans, bloated with success, start complaining if their team doesn't finish in the top two. Many of them are floating fans — ones who simply alight on the team that's currently the most successful. This probably accounts for Wikipedia's estimate of United's fanbase as around 330 million, of which 105 million are "core" fans. So that's 225 million who'll be moving on when the next slump occurs.
Not Chelsea fans. We'll enjoy the successes, but we'll still be there when our team's form deserts them, as it inevitably will.
We aren't going anywhere.
Ben Vincent grew up in a London suburb and now teaches in Istanbul.