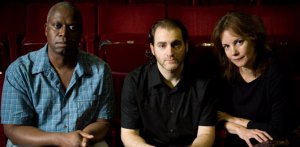 Andre Braugher spent six years investigating murders as feisty Detective Frank Pembleton on Homicide: Life on the Street, David Simon's prelude to The Wire. Now, a decade later, he's playing a murderer who killed his own brother (and married his sister-in-law) in his role as Claudius in the Public Theater's Shakespeare in the Park staging of Hamlet. "He's in a spiritual struggle throughout the entire course of the play, trying to resolve his crimes, his guilty conscience and to redeem himself," said Mr. Braugher, 45, of his character. He was sitting in the Public Theater's empty main stage, wearing relaxed jeans and thick-soled work boots. "He's really the catalyst for everything that happens onstage."
Before play rehearsal, the Oedipal triangle between Claudius, his nephew Hamlet (Michael Stuhlbarg), and Hamlet's mother, Gertrude (Margaret Colin), emerged as the actors huddled together for a photo. Ms. Colin stroked Mr. Stuhlbarg's unshaven jaw line. He kissed her pinky in return. Mr. Braugher folded his fingers and kept his hands to himself.
Mr. Braugher admitted to being a little nervous about returning to theater for the first time in 12 years, despite studying Hamlet in his college years at Stanford and Juilliard. "I think I played Claudius and Polonius in my second year at Juilliard, in 1986, but I haven't touched it since," he said. He added that Hamlet is one of Shakespeare's most mythical, revered tragedies. The title character "is a magnificent figure" in theater and modern life. "It's Jesus and Hamlet in terms of commentary," he said. "I'm having a really wonderful time exploring the role, but it's an epic task to rise to the challenge. … It's so elusive."
Hamlet, at Shakespeare in the Park, plays Tuesday through Sunday at 8 p.m. Information on how to get free tickets is available at www.publictheater.org.