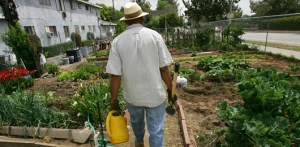 Growing population, drought, the use of biofuels and increased consumption have contributed to a growing world food crisis. The most vulnerable among us here in New York and poor people around the world are most affected by rising food prices and shortages. At the same time, we also see a growing awareness of where our food comes from and the environmental impact of food production. One result of that has been increased use of organic foods and increased use of locally grown foods. The movement toward organic foods and locally grown and marketed organic and non-organic foods is easy to see in our supermarkets and in the sidewalk greenmarkets located in many of the city's neighborhoods.
Organic produce sales doubled from roughly $3 billion in 2002 to $6 billion in 2006, according to the Organic Trade Association. That figure is expected to jump to $8.1 billion by 2010. Just over 6% of all produce sales now fall into the organic category, up from 2.5% a decade ago. Organic food offers benefits to the environment, local communities and public health. It does not rely on synthetic or petroleum-based pesticides or fertilizers, resulting in less water and soil contamination due to run-off. Buying organic at local farmers market, reduces your carbon footprint. (Check out this article from EcoStreet on ways to reduce your food miles.) In addition:
Locally grown food reduces the present average of 1,300 miles food travels from "field to plate."

According to the Council on the Environment of New York City (CENYC), "Transporting food long distances uses tremendous energy: it takes 435 fossil-fuel calories to fly a 5 calorie strawberry from California to New York."

According to the Council on the Environment of New York City (CENYC), "Over the past 50 years, close to a million acres of local farmland have been buried under cement and asphalt. The farms that attend Greenmarket preserve over 30,000 acres of regional open space."
The Council on the Environment of New York City (CENYC ) runs the city's Greenmarkets and has outlined some additional reasons why they are good for New York: www.cenyc.org/greenmarket/whygreenmarket
Food Security. "Greenmarket participates in the NYS Farmers Market Nutrition Program, providing food to families at nutritional risk. In 2005, almost 250,000 such households redeemed vouchers worth $3 million for locally grown fresh fruits and vegetables at NYC farmers markets." In 2005, Greenmarket donated over 300,000 pounds of food to City Harvest.

Improve Neighborhood Economies. "In peak season, the Union Square Greenmarket draws 60,000 shoppers a day; in a recent survey, 82% cited Greenmarket as the primary reason for their visit, and 60% spent up to $50 in area businesses."

Biodiversity. "Greenmarket farmers grow thousands of varieties of fruits and vegetables, including over 100 varieties each of apples and tomatoes. In contrast, industrial agribusiness cultivates high-yield hybrids bred for fast maturation and thick skins to withstand mechanical harvest and transport. The UN Food and Agriculture Organization estimates that more than 75% of agricultural genetic diversity was lost in the 20th century. Small, biodiverse farms preserve our food heritage."
Goods labeled "Certified Organic" are strictly regulated. Except for smaller growers who sell less than $5,000 in goods per year, organic farmers are inspected at least once a year to ensure compliance with National Organic Program standards on production and processing. The word organic is central to the certification and marketing process. This process is criticized by some. Certified Naturally Grown, offers a "non-profit alternative eco-labelling program for small farms that grow using USDA Organic methods but are not a part of the USDA Certified Organic program." (www.naturallygrown.org)
According to American Farmland Trust, "New York lost 127,000 acres of farmlands between 1997 and 2002 – an average of 70 acres of farmland a day." There were 36,000 farms in operation in 2004. A May 2005 survey by the New York State Department of Agriculture and Markets reported that New York represents a $30 billion per year market for food. Market demand for locally grown and processed products amounts to more than $866 million per year.
New York law makes it the state policy to encourage the creation and use of farmers' markets in promoting agriculture. The law states: "The legislature hereby finds and declares that farmers' markets provide a vital and highly effective marketing mechanism for thousands of New York farmers, improve the access of consumers and wholesalers to New York farm products, and contribute to the economic revitalization of the areas in which the markets are located." (McKinney's Consolidated Laws of New York, Agriculture and Markets Law § 259, 2001)
The volume of food needed to feed a city of this size makes large scale food manufacturing a necessity. Still, it ought to be possible to make sure that at least 10% of our food is grown locally and 10% is grown organically. In the long run, we need to make sure that the food industry takes steps to reduce it's environmental impact. On the continuum from locally grown organic food to high powered industrial agriculture there is a middle ground. We need to find that place and improve the way we grow and ship our food. Air, water, waste and food– remind us that we humans are biological creatures. Both billionaires and homeless folks need this planet to survive. It's really the great equalizer. As John Kennedy once said "…our most basic common link is that we all inhabit this small planet. We all breathe the same air…" We also need this planet to provide us with food. Maybe we ought to figure out some way to take care of it.
This piece was co-authored by Sara Schonhardt, Graduate Student, Columbia's School of International and Public Affairs