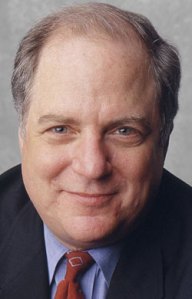 Over the past few weeks, HBO has announced a series of moves to stem the tide of speculation that the network is faltering. After canceling 12 Miles of Bad Road, a series starring Lily Tomlin, HBO announced deals with Oscar winners Alexander Payne (of Sideways and Election fame) to develop a dark comedy called Hung, about a man who divines power from his generous equipment; and Alan Ball, the creator of Six Feet Under, who is working on not one but two shows for the network. (One of those is about vampires, the other about a women's prison.) Then came the news that Frank Rich would join Tina Brown in serving as a "creative consultant" to the network.
"In recent years, since giving up criticism in 1993, occasionally someone has asked me to look at something, whether it was a play or a manuscript, and to try and tweak it or whatever," said Mr. Rich. "I love this stuff so much. This is a way to kind of do it in a less amateur fashion and on a more regular basis. It's a way to satisfy this craving I have had."
HBO needs the help. Even as its documentary, original-movie and comedy programming remain strong, the network has been without a new hit series for some time now. Lucky Louie tanked. John From Cincinnati is practically a punch line. In Treatment, the five-day-a-week peek into therapy that aired this past winter, was a little too much like, well, therapy to draw a mass crowd. The Wire, which reliably delivered critical acclaim for five seasons, is over.
And Flight of the Conchords? Although it was renewed, that show is kids' stuff compared to the shows that kept HBO series so far ahead of the rest. What they do next has to be big, smart, serious, bold. But what can journalists do to make that happen?
HBO's SOPRANOS FINALE a year ago drew 11.9 million viewers, meaning that over a third of HBO's 30 million subscribers at the time tuned in to witness the end of Tony on television. By contrast, HBO's most recent series, In Treatment, drew such poor ratings on its debut—under a half-million viewers—that the network decided to stream it for free online. Their popular miniseries John Adams did better—with an average of 2.2 million viewers over seven weeks—but it was hardly a blockbuster, and it was temporary.
So what's next? Besides the development deals with Mr. Payne and Mr. Ball, pilots have been ordered for a Darren Star adaptation of Tracy Quan's Diary of a Manhattan Call Girl, and Surburban Shootout, based on a U.K. series, about a woman in the suburbs stuck between two housewife gangs. (Showtime, it should be noted, also has a call-girl show in the works, and Weeds, which is also about a housewife in the suburbs, is a steady hit for the rival network.) Neither of HBO's projects have yet been green-lighted; they may be old before they see the light of day.
This is the first time in recent years that HBO, which for so long has been at the very forefront of creative programming, has been without a hit or a hit-in-the-making. Remember when Entourage debuted? Surely the network wasn't helped by the departure of programming guru Chris Albrecht last year. That's when Richard Plepler, a longtime PR man for the network (after whom Tony Soprano's surgeon was named in "The Sopranos"), became co-president of the premium cable network, along with Michael Lombardo in L.A.
Since then, Mr. Plepler has earned the reputation of a man about town who is not exactly shy about using HBO's money to harvest connections among the city's elite power brokers and creative talents, which he thinks will benefit his network.
"Frank is an enormous talent who understands our brand and what makes HBO unique," said Mr. Plepler. "To have a part of his energy focused on the network can only be a good thing for us."
Roughly five months ago, Mr. Plepler and Mr. Lombardo also signed former Vanity Fair and New Yorker editor Tina Brown to a deal that Mr. Plepler says is "spiritually" similar to that of Mr. Rich's.
Ms. Brown said that since January, she's pitched two projects—an idea for a series and an idea for a movie—that the HBO executives liked and are in the process of "taking a little further." According to Ms. Brown, she does not regularly meet with the HBO heads, nor do they send her material to vet. Typically, she contacts Mr. Plepler or Mr. Lombardo at her own discretion. "It's up to me," said Ms. Brown. "If I collide with some interesting material, I'll call or e-mail them. Sometimes it's something I'm interested in doing. Sometimes it's something I think they should know about. Richard wants to encourage people who have good relationships with the creative community to simply be thinking about HBO when they're out and about. It's working out well."