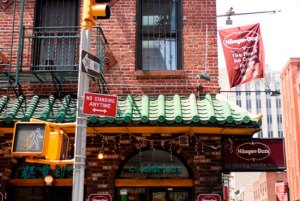 "If we do not have [a Business Improvement District], we'll be like Cinderella stuck downstairs while the rest of the city is having a party, and we will still be filthy and stinking," said the executive director of the Chinatown Partnership, Wellington Chen.
A Chinatown BID is not a new idea. The proposal has been around for about 20 years, said Mr. Chen, and he has been promoting the BID since well before the Partnership even came into existence after Sept. 11.
But with Chinatown's economy still in tatters since then and the specter of gentrification looming larger than ever, the BID is gaining urgency for advocates and becoming a target for opponents.
Sept. 11 cost 34,000 Chinatown workers their jobs—a quarter of the total employment there—and caused 40 of the 246 garment factories to close, irreparably damaging the engine of the economy, according to a report published by the nonprofit Asian American Federation.
Signs that business has not yet picked up weren't overt during a stroll down Canal Street.
Aside from an entire block of shops below Baxter Street still shuttered with huge orange signs reading "Closed by Court Order" since the NYPD raided them to recover counterfeit goods, the main thoroughfare is packed with tourists shopping for knockoff sunglasses and men whispering designer names under their breaths.
Evidence of gentrification is scattered—a construction site on the corner of Hester Street, a kitsched-out Haagen Dazs with a green, Asian-inspired thatched-roof, strung with lights. For telltale signs of Chinatown's flagging economic fortune look at the turnover of shops on Canal Street, said Mr. Chen.
"We're like the DMZ," he said. "The main lifeline to Chinatown has been closed since September 11 because of security concerns so the people who used to come here to get dumplings for lunch are staying away now." Mr. Chen was referring to Park Row, which connected Chinatown directly to the Wall Street area and which has been closed off since the terrorist attacks.
"In the core, Chinatown is dying," Mr. Chen said. "There are elderly women walking up exposed staircases in buildings without elevators. The landlords can't touch rent-controlled tenants so they will keep on hiking the ground-floor rents."
To the Partnership, which runs the Lower Manhattan Development Corporation-funded Clean Streets Initiative in Chinatown, a BID would help the neighborhood regain its economic footing following Sept. 11.
"Just like John Lennon's song 'Give Peace a Chance,' I ask people to please give BID a chance," Mr. Chen said. "People are going around and raising anxiety about the BID without understanding it. Everyone's acting like the sky is falling. We cannot talk out of both ends of our mouths: The people say on one hand we don't want a district and on the other we are suffering. On the surface, people think it will cost more, but in China when you're a sick child, your mom gives you a foul smelling, awful brew. Why? Because it's good for you."
At least 50 percent of commercial landlords need to back the BID, since they will be assessed 3 to 5 percent more in property taxes to cover the costs of privatized sanitation services like street cleaning and graffiti removal, security, or the installation of street lights—the example Mr. Chen continually sites. Advocates believe it would attract people back to the neighborhood. A survey conducted by the Partnership revealed that "the No. 1 turnoff is filthiness," according to Mr. Chen. "This is why people don't visit us anymore, and that's why the LMDC gave us money for Clean Streets."
Opponents argue a BID would "sanitize" Chinatown and overtax the embattled merchants there since commercial landlords transfer the cost onto their tenants.
To them, a BID would hasten the (perceived) onslaught of luxury development and would seal Chinatown's fate as a shell of its former self, geared exclusively toward tourism.
Though the gentrification of Chinatown has been ongoing, since Sept. 11, community groups have noted an increased push from the city to bring high-end commercial and residential development. The LMDC has used federal funding to encourage developers to build office buildings, and manufacturers are being pushed out, said Yuichi Tomano from the National Mobilization Against Sweat Shops and a member of the Coalition to Protect Chinatown and the Lower East Side, a group formed recently to rally support for Chinatown's inclusion in the Contextual Rezoning of the Lower East Side and the East Village.
"There has been a general push to change the nature of businesses in Chinatown and make it a sanitized tourist community, rather than one with its own economic life that supports all sorts of businesses," he said.
"On the one hand, working conditions are getting worse, with longer hours and less pay; and on the other we've seen an attempt by the government to bring in development that doesn't suit needs of the community, like luxury housing and high-tech companies."
Chinatown needs more low-income housing, Mr. Tomano said. Developers can build four market-rate units for every affordable unit, according to zoning regulations, but critics say in practice the incentive is little more than a backdoor to luxury development. Plus "affordable units" are not affordable to the majority of residents.
The Coalition worries that the Department of City Planning's proposal to rezone 114 blocks—bounded by East 13th Street to the north, Avenue D to the east, Grand and Delancey streets to the south, and Third Avenue and the Bowery to the west—to limit the density and height of new buildings to between four to seven stories could push development further south, into Chinatown.
Although the Coalition thinks it would be more cost-effective to redraw the boundaries of the current proposal than to do a separate rezoning for Chinatown and portions of the Bowery, Susan Stetzer, the district manager of Community Board 3, said it is too late to revise the plan.
"The city agreed to boundaries and is certifying the plan on May 5," she said. The people who are asking to be included are aware of that. "The board can now look at other areas for additional rezoning within Chinatown and we are willing to work with people who live there to get other areas rezoned."
Rob Hollander, a Lower East Side activist and the publisher of the Save the Lower East Side! blog, was at both the March and April CB3 meetings with the Coalition to Protect Chinatown/LES (many of whom sat quietly holding pic
kets that read "Stop Racist Rezoning" and "Include the Entire Community in the Plan."). He recalled a CB3 member asking him in public session, "Why does the Chinatown community come at the last minute and vomit on us and abuse our members?"
"First of all," Mr. Hollander said, "I thought, why are you asking me? I'm not Chinese, I don't live in Chinatown and they're right here. Ask them. It was very Rudyard Kiplingesque, something out of
White Man's Burden
. CB3 seems to think that the coalition members heard about the rezoning but intentionally avoided doing anything until the last minute just so they could complain that they were left out." He emphasized the last few words.
"It's a paranoid fantasy that the coalition groups have nothing else to do but sit around and think about how to abuse the community board. The Chinese Staff and Workers' Association and the National Mobilization Against Sweatshops are busy organizing labor. Why did they take so long to get involved in the rezoning? The obvious answer is, they didn't know about it. Nobody told them.
"The political influences on the community board are based in the East Village," Mr. Hollander added. "They don't communicate with the residents in Chinatown; they don't seem to do anything for them. When CB3 wants to talk to Chinatown, they call organizations that are involved with banks and developers, like Asian Americans for Equality and their offshoot, the Rebuild Chinatown Initiative."
Mr. Hollander met the woman leading the call for Chinatown's inclusion in the contextual rezoning, Josephine Lee, after she noticed a hotel construction site on Hester Street. She spoke to the Bowery Alliance of Neighbors, not the community board, to get more information on the project, and they referred her to Mr. Hollander. Through him, Ms. Lee learned about the rezoning task force and gathered a group to attend the first upcoming meeting scheduled.
Although Mr. Hollander is unhappy with CB3's approach to Chinatown—he said the CB rationalized a measure to increase the building height and density allowances on Chrystie Street by saying that "Chinese people don't mind density"—he does not think Chinatown's exclusion was racially motivated.
"I think they were so focused on the East Village that they just didn't even consider Chinatown," he said. "I'm not sure I'd call them racist. They're defensive because they don't want to seem out of touch. Maybe it's a sort of out-of-touch racism."