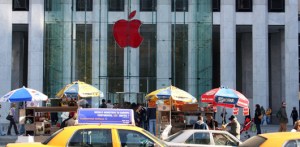 The first few days after the biggest U.S. building sale ever was inked, things at the GM Building were "pretty much routine" in the words of one doorman, save for the presence of a few unofficial, four-legged tenants seen scampering among the stuffed animals at FAO Schwartz.
Not many people who work at the GM Building appeared to notice that Harry Macklowe had hammered out a deal with Mort Zuckerman and partners on Saturday to sell the jewel in his real estate crown for about $2.8 billion. By now, longtime GM tenants have surely grown accustomed to a changing of the guard every so often. Manhattan's most expensive office tower has had four different owners since 1991—five if you count Sheldon Solow—some of whom have shaken things up, and others less so.
On Tuesday, the first workday after negotiations finished at 2 a.m. on Saturday, almost no one at the building at 767 Fifth Avenue had heard that it had finally changed hands. (The sale is set to close in June.)
"They don't tell us anything until they want us out," said one doorman upon hearing the news.
Harry Macklowe was seen in the office on the Thursday before the sale, keeping "a low-profile" as usual, the doorman recalled on the Tuesday after. That day, I talked to everyone from janitors to salesmen to well-dressed corporate types to gauge whether the record sale had tweaked the aura of the GM Building. For the most part, the answer was a resounding no.
"That must be why the building's been swaying and moaning at night," joked one janitor when told about the sale, rocking his arms from side to side. "I'm just kidding. Nothing has changed from our standpoint."
Though the building fetched less than the $3.5 billion Mr. Macklowe was reportedly aiming for, eyewitnesses said he was in high spirits on Wednesday of this week. He may not own the most valuable tower in the city anymore, but he has set two market records in just five years, first when he purchased the building in 2003 for $1.4 billion and then last weekend when he sold it.
"He was in yesterday, smiling, drinking his coffee as usual," said a CBS crew member who was disassembling a set piece from an earlier taping. "You know he lives across the street now." (Mr. Macklowe reportedly bought a huge spread last year in the Plaza.)
Overall, though, the mood in and around the GM Building on Thursday morning was more edgy than humorous. The same doormen who were chatting casually two days earlier were suspicious, and almost all of them refused to answer questions. Four of them huddled in the center of the outside plaza, at one point whispering, and I was expecting to be forced to leave.
Even the sea of pink, leggy, blond Elle Woods look-alikes, handing out "Legally Blonde" nail files to promote a new reality show, did not appear to cheer the doormen up.
"Yeah, we heard about it," one of the suited men surrounding the Apple store said tersely, nearly wincing.
Someone in the building "said some things" to the maintenance and security workers, he answered vaguely, but clammed up when pressed for details. "A few things [have changed], but I don't want to go into detail."
Billy, an Estee Lauder employee who has worked in the building for four and a half years, said security workers were given their marching orders this week.
"[The aura] is a little different now, because people are going to get fired at the end of the month," he said during a mid-morning cigarette break. "Security told us that the new owners were bringing in their own people."