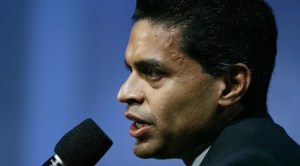 The Post-American World, by Fareed Zakaria. W. W. Norton, 292 pages, $25.95.
Fareed Zakaria's The Post-American World is one of those peculiar volumes public thinkers of a certain disposition, upon reaching a certain popular standing, seem compelled to write: an omnibus summation of the recent trajectory of their thinking—and, by extension, the state of the world.
"This is a book," the first sentence explains, "not about the decline of America but rather about the rise of everyone else."
That expansive mission statement is not quite achieved—or achievable—and it's one that also happens to motivate a glut of other recent titles (e.g., Parag Khanna's The Second World: Empires and Influence in the New World Order, Kishore Mahbubani's The New Asian Hemisphere: The Irresistible Shift of Global Power to the East) newly stocked in the current-affairs aisle. In this saturated market, The Post-American World—refreshingly unsubtitled—distinguishes itself on at least one other count: No book in recent memory better explains the rise of Fareed Zakaria.
That's wide of the target, of course, but only just. In fact, a persuasive treatment of the decade leading to our current hand-wringing over American decline—the decade of Putin and Dubai, the euro and the renminbi—might very appropriately start with the person of Fareed Zakaria. I say this not because Mr. Zakaria's biography—"In the fall of 1982, I arrived here as an eighteen-year-old student from India. … [America] seemed to offer unlimited generosity and promise"—slots so nicely (if facilely) into generations-long narratives of globalization and identity, but because the style and substance of his commentary are so acutely calibrated to the local anxieties of the moment. Or, as you might ask if you went to bed the night Al Gore won the presidency and just woke up this morning: Who is this guy?
On paper (and through cable and copper wire and over the airwaves), there's a lot to dislike. Not long ago an obscure academic and Foreign Affairs editor, Fareed Zakaria has since become something like a multimedia simulacrum of an intellectual. Here he is, with his angular aristocrat's mug, delivering conventional wisdom like hard truths on ABC's This Week. Here he is, at once deadpanning or hamming it up with his fawning "buddy" Bill Maher. Since 2000, he's edited the international edition of Newsweek, a publication whose unshakable middlebrow irrelevance is often publicly lamented by Jon Meacham, editor of the U.S. edition. Before migrating this year to a similar (and presumably better paid) weekly gig on CNN, Mr. Zakaria's ubiquity extended to the nonprofit sector; the name of PBS's Foreign Exchange With Fareed Zakaria is the kind of pun an eager investment banking trainee thinks his bosses make. He once reviewed wine for Slate.
The Post-American World does little to suppress Mr. Zakaria's penchant for snappy platitudes and catchphrases. I hesitate to call these tics populist; it shows no love for the populace to write as if "folks" without Harvard Ph.D.'s like his own can't be spoken to like adults. In Mr. Zakaria's telling, China and India can never just have relations with the United States: It has to be "The Dragon and the Eagle," or, rather less poetically, "The Cow and the Eagle." (What of the majestic Bengal tiger?) "Great Powers," we're told elsewhere, "are like divas: they enter and exit the international stage with great tumult." And, "Unipolarity + 9/11 + Afghanistan = Unilateralism + Iraq"—whatever that means. Treated here with smug indifference, language, as it so often does, enjoys the last laugh. "Polarity is not a binary condition," Mr. Zakaria aphorizes late in the book, and it's pretty clear he doesn't get the joke.
Yet it's hard to stay mad at Fareed Zakaria. For all its obnoxious faux-erudition—we're treated to an extensive footnote early on about the relative strengths and weaknesses of G.D.P. and purchasing power parity as comparative metrics—The Post-American World is ultimately a decidedly unscholarly work of secular theodicy. Lighten up, a genial voice tells us—things in China and India and Europe are as they are because that's the best they can be. "The arrow may be moving slowly, but it moves in the right direction. … In any event, there is no other way. Democracy is India's destiny." Right.
Confined to the final 30 pages, Mr. Zakaria's prescriptions for American foreign policy recall those institutional posters that insist "All I Ever Really Needed to Know I Learned in Kindergarten." In other words, don't be a jerk and don't break your own rules just because you can. The balance of the book is a meandering consideration of why the West has dominated the globe for the last 500 years, and why that dominance is coming to an end. Here, the great timely appeal of the author comes into focus: He's like that friend you have who reads unusually widely, but never deeply enough to make you uncomfortable.
Thus we get Jared Diamond-lite geographical determinism—Europe's "topography produced many natural borders and encouraged political communities of varying sizes"; and Max Weber-lite religious determinism—"Hindus, like Confucians, don't believe in God. They believe in hundreds of thousands of gods." Perhaps national destiny is a matter of political structures—"Indians understand America. It is a noisy, open society with a democratic system, like theirs"; or perhaps linguistic ones—"India's diversity is 4,000 years old. … It is a county with seventeen languages and 22,000 dialects." Mr. Zakaria is self-critical enough to make plain that one can't really believe in all these determinisms at once; he's self-satisfied enough not to try to synthesize a more convincing school or approach.
And so leaden economic facts dance and miscegenate with helium factoids—did you know that Abdul Nasser's favorite movie was It's a Wonderful Life? Innovative historians Niall Ferguson and Paul Kennedy are quoted abundantly, but so are McKinsey white papers and Thomas Friedman. Indeed, the specter of the loathsome Mr. Friedman, the catchphrase junkie behind The Lexus and the Olive Tree (1999) and Longitudes and Attitudes (2002), hangs over much of The Post-American World; though their politics and target audience are basically identical, Mr. Zakaria, with his caveats and interpretative lacunae (i.e., arguments), is an improvement on his Op-Ed-page precursor.
Which is to say, for all its inanities, as a tertiary source on the way nation-states live now, you could do far worse than The Post-American World. You won't learn much you couldn't have figured out for yourself, but you won't be lied to, either. These days, with explanations easily outnumbering reassurances, that's about enough.
Jonathan Liu, a writer living in Queens, reviews books regularly for The Observer. He can be reached at jliu@observer.com.