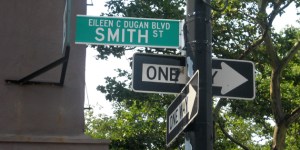 In an inevitable, perhaps even overdue collision of reality and lifestyle, this morning MTV announced it has green-lighted the 21st season of The Real World. It will be filmed in Brooklyn, the reigning home turf of post-teen drama, and broadcast in 13 one-hour episodes in early 2009. No word yet regarding in which neighborhood the attention-seeking hopefuls will reside and manufacture identity-based conflict. We are hoping for the corner of Smith and Carroll but will also settle for Bedford and North Sixth. We would also like to see The Real World: East New York, where things start getting really real, and surely City Councilman Charles Barron of that neighborhood would assist with locations. God speed, young funny-haired applicants.
A TREE ISN'T THE ONLY THING GROWING IN BROOKLYN!
MTV HEADS TO BROOKLYN, NEW YORK AS "THE REAL WORLD" BEGINS PRODUCTION ON SEASON 21
Newly Expanded to One-Hour, "The Real World: Hollywood" Grows from Previous Season and MTV Ranks as the #1 Network in the
Wednesday 10-11pm Time Period Among P12-34
Over 3 Million Page Views for Raw Uncensored Footage at RealWorldDailies.com
Santa Monica, CA, May 13, 2008 – Riding high on the successful launch of an accelerated, action packed 13-week episode cycle with more favorite Real World drama packed into 1-hour episodes, MTV has greenlit the hit reality series for a 21st season. Production will move from the west coast to the east coast as Bunim-Murray Productions begins shooting in Brooklyn, NY this summer. Continuing with the new format of expanding the episodes to one-hour, the network has ordered 12 episodes of "The Real World: Brooklyn" which is scheduled to premiere in Q1 2009. "The Real World: Hollywood " captivates viewers on-air as MTV is the #1 network in the Wednesday 10-11pm time period among P12-34 and online as more than 3 million fans have accessed The Real World Dailies (www.realworlddailies.com ) for never-before-seen production moments.
"In its 20th season, this pioneer of reality TV is stronger than ever in its new one-hour format. Viewers are connecting with the cast and drama of 'The Real World: Hollywood' in a big way, and expanding a half-hour per episode gives them more of what they want – making this must see TV each week," Tony Disanto, Executive Vice President, Series Development and Programming. "We're thrilled to also announce the greenlight of season 21, taking the show back to where it all began – New York City."
"The Brooklyn season, like the Hollywood season, will focus on what people loved about 'The Real World' when it launched in 1992 – genuine people, meaningful conflict and powerful stories," Jon Murray, "The Real World" Co-Creator and Chairman & President of Bunim-Murray Productions. "We're thrilled that MTV is allowing 'The Real World' turn 21!"
The current season of "The Real World: Hollywood" brings seven strangers together to pursue their individual "Hollywood dream" as they deal with conflict amongst each other and within themselves in the first eco-friendly house. For the first four weeks, the 20th season has posted a 2.5 P12-34 rating, a 14% increase from the prior season-to-date. The series has seen significant growth among F18-24 with a 6.1 rating, which is a 39% increase over last year. "The Real World: Hollywood's" strong performance has driven MTV to the top spot as the #1 network in the time period (Wednesday, 10-11pm) among P12-34 across all of television, even besting broadcast. Season-to-date, the popular reality series has reached 44 million total viewers (P2+) and 23 million from our P12-34 core.
The landmark 20th season breaks new ground with a dynamic form of storytelling that slowly reveals the comedic and dramatic moments in real time, on a daily basis, via a new dedicated site – www.realworlddailies.com . Since the launch of The Real World Dailies in mid-April, the site has received more than 3 million page views as fans are able to see what the editors see everyday while in production. Nearly 400,000 cumulative daily unique visitors have logged on to watch uncensored footage from "The Real World: Hollywood" production and to read blogs written by executive producer Jim Johnston, which give insight into what the creative team was thinking while shooting the new season.