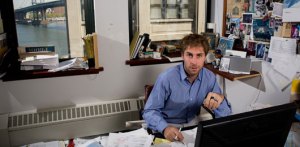 Location: How long have you been working with your father, David?
Mr. Walentas: Since '97.
And before that you were with Donald Trump?
For a year.
Who is the better developer?
They couldn't be more different. Donald is one of the world's best promoters; does super-high-profile, big-picture, flashy projects; is a great boss; runs a great organization; and is much less involved in a lot of the details, at least different details than we're involved with here. And Donald had a much bigger head start. His father was in the business. He started with entree into money. David started with nothing.
You refer to your father as David?
I do. I always have. Since I was 2.
How come?
I don't know. It's what everyone else called him.
Is it true that you've sort of taken over the reins here at Two Trees?
Yeah, I certainly run most of the people here.
How many people work for you?
I think our annual payroll is up to about $7 or $8 million. … But in terms of people I perceive working for me, maybe 15 or so. … I'm friendly with most of them outside of here.
Is it true that your dad now refers to you as his boss?
Probably depends on the day or who he's talking to. But, generally, I don't think that's quite so accurate in terms of spirit. I think I certainly run the business here, in terms of running all the people. … On the one hand, Amish and I can talk David into almost anything if we feel strongly enough about it. And on the other hand, there's nobody here with better real estate judgment than he has. And I'm certainly not doing anything that he doesn't want us to be doing.
Who is Amish?
Amish [Patel] is my sort of partner here, and my best friend from college.
You're taking the reins during an uncertain time economically. Does that give you pause? Could Dumbo have happened in a time like this?
You know, real estate is a super-long-term business. David's had this company 40 years now. Most of our projects are pretty-long-term projects. So, to be successful in this business, you've got to prosper in good times and survive in bad times. We're in a really good position to do that. Our basic structure here is pretty smart. We're not overleveraged; we use our own money; we don't rely on partners and syndications. We only do one or two things at a time, and we take them super seriously. … Dumbo happened over 25 years, so it went through good cycles and bad.
Why are you returning to Manhattan?
I don't think it's a philosophical thing. I think we're always interested in value. Our project at 54th Street was something that we thought was a great way for us to add value, a good fit for our organization.
It must have been a big decision. You left Soho in the '80s and then you come to Brooklyn, and you're so entrenched here.
Listen, if you buy a piece of property for $130 million, it's a big decision, whether it's on 54th Street or on Pluto.
I'd say Pluto would be a bigger decision.
You know, I lived in Manhattan my whole childhood. I always thought we were New York City developers, not Brooklyn developers or Manhattan developers. It wasn't like, 'Oh, we're leaving Brooklyn and going to Manhattan.' … We're doing things in Brooklyn as well. We found an opportunity that we thought made a lot of sense to us.