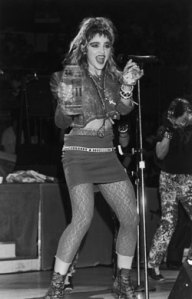 Madonna used to sit on the steps of the new-wave dreamland Danceteria—where she was a hat-check girl, Keith Haring was a busboy and the Cramps played next to the Buzzcocks or Birthday Party—and tell nightlife kings like Steve Rubell she was going to be a very big star. In 1982, when the club reopened at 30 West 21st Street, she got a DJ to play her demo there.
But it's an indestructible physical law of Manhattan real estate that any building that once housed something artful and interesting will be replaced by luxury condos: The three-story dance floor on West 21st didn't quite survive the Reagan administration, and, by 2004, the building was sold for $12.5 million.
A year ago the buyer flipped for twice as much, $25 million, to Beck Street Capital, founded by the investor Kevin Comer.
Beck Street is turning the building into 11 floor-through apartments, about 4,000 square feet apiece, that will go on the market next month for $5,895,000 to $7,950,000 each. Then there's the 3,038-square-foot duplex penthouse (with six terraces and a rooftop pool) that costs $7,795,000, plus a bigger townhouse apartment downstairs priced at $9.25 million.
"Legitimacy is the one word I can really give to it," Mr. Comer said. He meant a very precise kind of legitimacy: "Three-inch solid marble kitchen countertops … Our floors are all made of legitimate, solid wood."
He said the hip '80's pedigree was interesting, but that the building should be renovated back to its pre-Danceteria roots: "We like to refurbish buildings and bring the soul back to them." So, as these things go, the condo will be called Alma, Spanish for soul. "The '80's literally drained the soul from the building," said the marketing broker, Darren Sukenik. "Madonna was, like, passed out on the floor for three years. The building was so raped and devoid of soul for years."
But does Mr. Sukenik, who went to the club underage, with black hair down over one eye ("Echo and the Bunnymen, that was pretty much my favorite," he said), regret that a new-wave landmark will become condos? "You never know what's going to be next. Everybody gets their turn," he said.
Next year the apartments will be delivered with lifestyle designers, in-loft wine cellars and gyms, radiant-heat floors and daily maid service (with chocolates on pillows). "It's absolutely celebrities, families, Europeans, anybody that gets it," Mr. Sukenik said, "because if you don't get it, you're not going to get it."