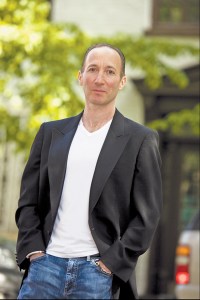 The legend of Mark Leyner started small. It quickly grew out of control.
"I was an infinitely hot and dense dot. So begins the autobiography of a feral child who was raised by huge and lurid puppets. An autobiography written wearing wrist weights," Mr. Leyner wrote in one of the riffs—"chapters" would be too conventional a description of his style—in his 1990 book, My Cousin, My Gastroenterologist.
Mr. Leyner, who lived in Hoboken, had already published I Smell Esther Williams, a collection of experimental stories that The Times called "prodigiously original." My Cousin was met with similarly favorable reviews by critics, who saw in Mr. Leyner's punctuation-flouting, form-bending, au courant prose a reflection of television's growing influence on a new generation of writers. In 1992, just before the release of his third book, Et Tu, Babe, he was featured on the cover of The New York Times Magazine in a tank top, hoisting an inflatable dumbbell beside the cover line "Mark Leyner Is America's Best-Built Comic Novelist."
Et Tu, Babe told of the rise to fame and power of a writer named Mark Leyner, a fabulously successful muscle-bound man of letters who's photographed nude by Annie Leibovitz via spy satellite and swooned over by Martha Stewart: "It's almost impossible to conceive that this is the body of an acclaimed writer. And not just an acclaimed writer, but perhaps the most influential writer at work today," the fictional Ms. Stewart said of the fictional Mark Leyner.
His byline began appearing in the pages of The New Yorker, The New Republic and Esquire (where he was a columnist). He became a free-floating arbiter of culture, interviewing his idol Keith Richards in Spin, dispensing insights on "hipness" to Time magazine. Mr. Leyner appeared on Letterman. He participated in a Charlie Rose roundtable on the future of fiction with Jonathan Franzen and David Foster Wallace. He published another book, a collection of odds and sods called Tooth Imprints on a Corn Dog, followed by a novel, The Tetherballs of Bougainville, which again featured his greatest creation, Mark Leyner, this time as a 13-year-old boy trying to save his father from execution while carrying on an affair with a female prison warden.
And then what happened? As the 21st century dawned, both Mark Leyners disappeared—poof!—just like that. It's as if the '90s held him captive.
Today, however, 52-year-old Mark Leyner has resurfaced with an entirely new act: screenwriter. He's co-written War, Inc., a Dr. Strangelove-esque satire of the Iraq occupation, with John Cusack and Bulworth co-writer Jeremy Pikser.
Mr. Cusack (who also produced the film) stars as Hauser, a black-clad executive and occasional assassin for Tamerlane, a corporation run by a former vice president of the United States (Dan Aykroyd, barking his cameo) that is executing the first completely privatized war, in the nation of Turaqistan. Any resemblance to Halliburton, Dick Cheney and Iraq is entirely intended.
The film, which opens in New York and Los Angeles on May 23, co-stars Hilary Duff as a Turaqi pop star named Yonica Babyyeah and Marisa Tomei as Natalie Hegalhuzen, a columnist for The Nation who bears a passing resemblance to The Nation's Naomi Klein. An article Ms. Klein wrote for Harper's in 2004 on war contractors served as partial inspiration. (Reached in Toronto, Ms. Klein said she offered some suggestions to the filmmakers and met with Ms. Tomei, but made it clear that she had no formal relationship with the project.)
So, where has Mr. Leyner been since his last novel? "Whatever this period of time has been, I've needed it. Given the extremity of my personal identification with that work, I think 10 years is probably sort of minimal. … I made a very conscious decision to try to do other things," he said recently over coffee near Union Square.
Those other things included developing a pilot about a kilt-wearing, punk rock surgeon for MTV called Iggy Vile, M.D. In one scene, Dr. Vile performs an impromptu liposuction on a woman using a drinking straw. "I'm still proud of that," Mr. Leyner says with a laugh.
He also worked for Peter Berg's ABC series Wonderland, which was canceled before any episodes he wrote could air. While there, he met Billy Goldberg, M.D., who was the show's medical consultant. The two collaborated on a book called Why Do Men Have Nipples?, which playfully answered such questions as "Can you catch diseases from a toilet seat?" (sometimes); "Will staring at an eclipse make you go blind?" (not necessarily); and "Why does poo float?" (Do you really want to know?)
To both men's surprise, the book and its sequel, Why Do Men Fall Asleep After Sex?, were monster hits, bigger than all of Mr. Leyner's books combined. The book landed the authors on Today and was spun off into a desk calendar. (A third volume is on the way.) It was during the Wonderland period that John Cusack contacted him. "I had read his book," Mr. Cusack said by telephone from Los Angeles. "And called him up, kind of as a fan, and said, 'Let's do something together? Can we do something?'"
Together they adapted Et Tu, Babe, but that project languished, according to Mr. Leyner, because "Et Tu is like an enormous, Wagnerian epic film." Maybe, but the main problem with a film of Et Tu, Babe is how the material has aged. The type of fame Mr. Leyner satirized in 1992 is quaint by contemporary standards. It's a pre-Internet, pre-glossy-tabloid world dominated by figures like Connie Chung and Clarence Thomas that looks like an age of innocence compared to our current era of camera-phone pictures of celebrities in bathrooms. Those movie references and infomercial jokes that made Mr. Leyner's work so well suited to his moment call to mind the pop-drunk sensibility that made Quentin Tarantino such a thrilling writer-director circa Pulp Fiction.
Today, Mr. Leyner is a bit like a living embodiment of VH1's I Love the '90s: He has no official Web site; he still uses AOL for his e-mail; he's just gotten around to reading Bret Easton Ellis.
War, Inc., which by all indications takes place in the present—or the very near future—is also weirdly stuck in the past. John McLaughlin makes a cameo as a newscaster; when Mr. Cusack's character needs to externalize a bit of his character's inner monologue he converses with his car's GuideStar operator—a joke on 1995's cutting-edge OnStar technology—voiced by Montel Williams. Even a side plot about a leaked sex tape feels tacked on, a nod to the current moment of Paris Hilton-type pseudo-celebrity epiphenomena.
Then there's that other totally '90s element of War, Inc.: John Cusack, who can't seem to break free of his '90s icon status. In his 40s now, he still comes off as a post-Reagan, pre-grunge searcher. Quick: Name one movie in which Mr. Cusack has seemed fully at home this decade. Did you say High Fidelity? That's based on a 1996 book. Grosse Pointe Blank? When that movie came out, Bill Clinton was still president.
The two '90s guys (and their collaborator, Mr. Pikser) got on well. (Mr. Leyner and Mr. Cusack have another script in the hopper, a satire called Pipe Dream about a performance artist who works with his own feces.) But while Mr. Cusack's take on War, Inc, is overtly political, Mr. Leyner's is more abstract. "What John and Jeremy might see as the foreground of the movie"—Halliburton, Cheney, etc.—"I kind of saw it as the background. I'm more interested in other aspects of the movie. The sort of critique of heroic iconology. The idea of a person who's actively in conflict with himself."
If you're catching an echo of the Mark Leyner/Mark Leyner divide, you might be … Mark Leyner. "There's almost nothing anyone can say about my work that I probably haven't thought about at some point," he says. "I'm very thoroughgoing about it."
With War, Inc. set to hit theaters, Mr. Leyner, who by some miracle still lives in Hoboken, is starting on a new work of fiction. For his next act, he will be reborn as the master of his own pantheon of gods and goddesses: He's writing his own book of myths. "There haven't been new myths in a long time," he says. "The gods live on the upper floors of this fabulous apartment building of Kuala Lumpur.
"I'm not in it," he's quick to add with a smile. "But it does, I think, embody my signature hubris."
mhaber@observer.com