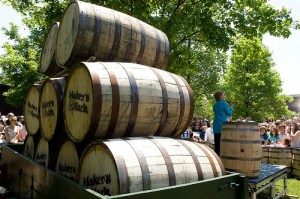 In the wake of Ted Kennedy's seizure and hospitalization, Jay Newton looks at his long career.
All the candidates wished him well.
Hillary Clinton isn't going to quit on America.
Barack Obama wants his supporters to be nice to Clinton supporters.
McCain's national finance co-chair quit over the ties of his lobbying firm.
That's the fifth departure the campaign has seen this week.
The McCain campaign says Jamie Rubin lied about McCain's position on Hamas.
McCain appeared on Saturday Night Live.
Marc Ambinder reads McCain's speech to the N.R.A., so you don't have to.
The New York Times considers Obama-as-literature.
The Washington Post considers Obama in contemporary political art.
Mike Huckabee apoligized for a really tasteless joke.
The New Republic tries, at length, to figure out what went wrong with Clinton's campaign.
Conventions and add-ons netted Obama three regular delegates.
Peter Beinhart considers all the good things the Clintons have done for the country.
Tom Friedman tries to put the "Obama has a Jewish problem" storyline to bed.
Jack Bass has the Clintons' "Plan B."
Vito Fossella marched in a parade this weekend.
The Post reports that Fossella had other affairs.
Tom Wrobleski remembers the rise of Fossella.
Former City Council Speaker Gifford Miller hired a criminal defense lawyer.
Queens Democrats might back City Councilman Hiram Monserrate when he tries to unseat longtime State Senator John Sabini.
Friends of the former state trooper who committed suicide told the Daily News the trooper was wracked with guilt over what he had seen at the agency.
George Pataki says he did nothing wrong related to the state police.
The New York Times looks at Anthony Weiner's anti-earmark position, and his earmarks.
Robert Harding is worried about the Empire State Development Corporation.
Freedom's Watch has Representative John Hall on their radar.
The Federal Energy Regulatory Commission denied the company that wants to build a new power line through the state a special rate on returns for investors.
Kathleen Kennedy Townsend writes about her father, Robert F. Kennedy, in the Daily News.