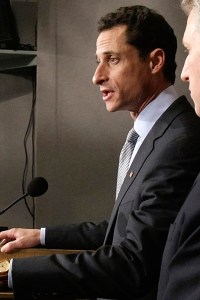 Here's a debate to watch for as the 2009 mayor's race gets going.
The New York Post editorial board today praised Anthony Weiner's position on the reform of City Council member items, which Weiner recently said he opposes, along with congressional earmarks.
The political implications, and their effects on the timing of Weiner's change of heart on earmarks, are fairly obvious: his uncompromising opposition to discretionary spending by members of legislative bodies in meant to keep the heat on his likely rival in the mayor's race, Christine Quinn, who has been rolling out reforms to the member items process ever since questionable accounting practices in the City Council were revealed.
Weiner, like the New York Times editorial board, thinks that while member items exist, they should be given out by agencies under the mayor's control, instead of the City Council. In theory, that would reduce the chance that lawmakers could steer money to questionable groups. Quinn, after proposing to do just that, modified her plan to keep control of where the money goes within the City Council while requiring groups to be "pre-cleared" by the agencies.
For the record, liberal good-government types are divided on the question of whether members items are inherently bad.
NYPIRG senior attorney Gene Russianoff, for example, thinks that shifting power from the City Council to the mayor isn't necessarily a way to rid the funding system of political and ethical problems.
"I'm someone who survived the Giuliani era," he said. "And, so, if you turned over the keys entirely to the mayoralty, you may as well have hung a 'gone fishing' sign on your council desk and come back eight years later. Because groups that you cared about that weren't playing ball, like Housing Works or the Coalition for the Homeless, would find themselves without a meaningful friend.
"Even allowing mayoral pre-qualification runs that risk."
He added, "There's a little leap of faith that it'll be fairly administered by the next mayor's office of contracts. With this one, they appear to have a good working relationship. But who knows what creatures slouch towards City Hall."