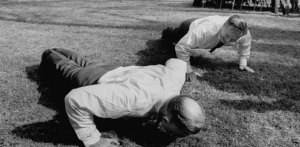 Figuring out what to wear to your college reunion is tough at the best of times. Figuring out what to wear when the college reunion in question is not actually your college reunion, but the reunion of your significantly younger significant other—with you, as a result, running the risk of being mistaken for a sinister aging relative—is infinitely more challenging. Add the fact that the college reunion is at Brown University, only slightly less scarily trendy than Wesleyan (Barack, bonjour!) and you have the recipe for one humdinger of a Memorial Day weekend.
Things got off to an unexpectedly surreal start. Boarding the Acela last Friday, my Jonny and I found it jammed with excited alums. "Fab!" thought Scoop Doonan, "I can spend the entire journey interviewing the class of '88 about their proposed campus dance outfits. By the time we pull into Providence station, I will have written my column and be free to enjoy the scheduled festivities." Horror of horrors, the only available seats were to be found in The Quiet Car. No talking. No cell phones. All aboard the Trappist Express! When, in hushed whispers, I tried to pry some fashion tips out of class stars Marci Klein (Calvin's daughter) and maternity-wear empress Liz Lange, we were violently and menacingly hushed by WASP-y academics in adjacent seats. As frustrating as this was, I derived great amusement from watching these two insanely loquacious, highly strung overachievers reduced to dumb mutes. Before taking a vow of silence, I was, however, able to ascertain that Marci—an exec producer on Saturday Night Live—planned to wear a vintage ensemble by her father, and that Liz would be toning down her high-voltage socialite glamour in a courageous but deranged attempt to be mistaken for a student. "When you've become a household name, you don't need to jam it down people's throats," she quipped self-mockingly.
Regarding my own outfit: With no chance of ever again being mistaken for a student, and a much greater chance of being mistaken for Jonny's grandfather, or grandmother, I figured I had nothing to lose. I opted for a poofy Thom Browne velvet jacket and age-inappropriate Ernest Sewn jeans, garnished with a series of floral shirts, switched out during the endless schedule of mixers and barbecues. Were my outfits a hit? Nobody seemed to notice or care. I was an irrelevant, invisible non-alum.
This anonymity afforded me ample fly-on-the-wall opportunities to observe the interpersonal dynamics of the occasion. Firstly, I was struck by the way in which the attendees instantaneously resumed their previous relationship dynamics. Niggling decades-old resentments and unhealthy co-dependencies bubbled to the surface within milliseconds.
However, more than the psychodramas, far more, I was struck by the shocking lack of cellulite. Let's face it, most college reunions—or any reunions for that matter—are about weight gain, plain and simple: Who got fat? Who got fatter? If this had been my college reunion—Manchester University, Class of 1973—I know that I would have spent the entire weekend peering into jowl-adorned faces and trying to recognize old chums, sort of like gawping at that What Would Celebs Look Like If They Lived in Ohio Web site. At Brown, the opposite was the case: Those who were once chunky are now thin. Those who were thin are now thinner. Unsurprisingly, calorie intake and how to avoid it seemed to be the main topics of conversation. Nobody mentioned anything related to education or the state of academia. As a result, I was left with the impression that Brown University is more of a trendy spa than an institution of learning.