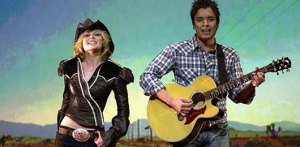 Last week, at a press conference at NBC headquarters at 30 Rockefeller Center announcing that he would take over for Conan O'Brien on NBC's Late Night next year, when Mr. O'Brien moves into Jay Leno's big chair, Jimmy Fallon looked just a little sheepish.
"I'm very excited about this," he told the crowd of reporters. "It's just unbelievable to be in the building I used to work at! It's gonna be a grind, is the advice I heard from everybody, and it's gonna be really hard, and I'm ready to work really hard. I'm just excited about this. I hope to make this the best show, and the show to make everyone choose me to fall asleep during." The crowd laughed politely. On the podium with him was his mentor, NBC comedy guru Lorne Michaels, who produces Late Night, which airs nightly at 12:30 a.m., and who had selected Mr. Fallon as its new host, just as he had anointed an unknown 30-year-old Conan O'Brien 15 years earlier.
A week later, on the phone from the Los Angeles home he shares with his wife of five months, the movie producer Nancy Juvonen, and their dog, Lucy (Mr. Fallon's New York bachelor pad is currently being redecorated—"It's filled with video games and sneakers"– in preparation for Ms. Juvonen's move east), Mr. Fallon reflected on his decision to take the job.
"It's a comedian's dream where you can get a job where you can tell jokes on national television," he said. "It's amazing. That's why comedians work comedy clubs. They work any room they can get a laugh! I missed that. I missed the applause, and I missed working with writers and getting out there and telling jokes and doing bits. Late-night television is responsible for some of the best moments on TV! And you get to meet a bunch of people. I find people interesting. I really do. I think I'm looking forward to that as well, so much. It's almost like, what don't you like about the job? It's great. You get to come out and tell the jokes and meet cool people, hear good new music and just entertain people."
"We started talking a year ago," Lorne Michaels told The Observer. "I just got the sense that he was built for it. I thought that he would give it everything…One of the things that's less known is that he has these impossibly high standards. He won't commit to anything unless he feels like he can make it work. Movies are far more complicated, because you're not in charge. There's sparks coming off him, of the number of ideas he has for the show."
Mr. Michaels has known Mr. Fallon, who is now 33, since he auditioned for Saturday Night Live in 1998. After dropping out of the College of Saint Rose in Albany, where he was a computer science major, Mr. Fallon moved to Los Angeles, where he did improv and stand-up comedy for barely any money, and took classes with the famed comedy troupe the Groundlings (though he was never a cast member). On SNL, Mr. Fallon became known for his imitations of Gilbert Gottfried, John Travolta and Jerry Seinfeld; when he was tapped to co-host Weekend Update with Tina Fey in 2000, he often sang jokey songs on his guitar. His role was lovable goofball; it seemed like he had been hired to replace Adam Sandler, who had left SNL in 1995, and who had appealed to frat boys and their girlfriends alike.
But Mr. Fallon's decision to leave SNL in 2004 to work in film turned out to have been a poor one; other than his role in the moderately successful Fever Pitch, in which he starred with Drew Barrymore and during which he met his wife (who is also Ms. Barrymore's producing partner), Mr. Fallon's movie career has been, by any measure and by his own admission, a flop. So when he signed an exclusive production deal with NBC in February 2007, it was seen both as a public acknowledgement that his efforts in film had not paid off, and that NBC was seriously considering him to replace Mr. O'Brien in 2009.
Watch his appearances on Saturday Night Live; the YouTube clips of his recent stand-up efforts; the music videos he's done with the likes of Zooey Deschanel; and his opening sequences for the MTV Movie Awards, which he's hosted three times, and one thing becomes clear: Whoever Jimmy Fallon qua Jimmy Fallon is, he's not really in any of these performances. Mr. Fallon is most comfortable when he's assuming the character of someone else; he expresses himself through the form and voice of other people.
But silly songs and Nic Cage imitations do not a late-night talk show host make, and it remains to be seen whether Mr. Michaels' gamble that Mr. Fallon is up to the task will pay off. Another highly talented and beloved sketch comedian, Chevy Chase, was given a late-night talk show, on Fox, back in 1993; he had flop sweat on his first night out; pals like Martin Short, Goldie Hawn and Dan Aykroyd showed up as guests to help him over the hump; the hump won; the show lasted five weeks.
The best American talk show hosts—Jack Paar, Steve Allen, Johnny Carson, Dick Cavett, David Letterman, Mr. Leno, Mr. O'Brien—have been sensibility anchors, offering glimpses of their own neuroses while guiding a nation of television viewers not just humorously but, equally important, culturally and politically. Carson didn't just read the papers; he read books, he knew history. The great talk show hosts have been able to create television moments equal to national events. Mr. Letterman is the current master. Think of his first broadcast after 9/11, on Sept. 17, 2001, with ground zero still smoking, as he was the first of the talk show hosts to go back on the air after the attacks. Visibly moved, Mr. Letterman spoke from the heart and gut to the grief and shock and anger of those days; he interviewed Dan Rather; and over the course of the gripping hour, somehow he gave Americans permission to laugh again, not in a jokey way but as a necessary medicine for a frightened and numbed country.