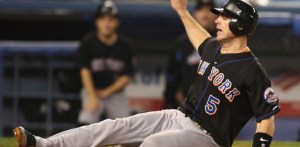 David Wright is miscast in a Mets uniform.
His youth, affability and seemingly boundless enthusiasm are, by themselves, sufficient to draw a sharp contrast to the gaggle of older, often listless imports that surround him. Add the fact that he's not only the best player on the Mets but also one of a scant few whose career remains on the ascent, and you begin to understand that by nearly every metric, Wright is the anti-Met.
For seasoned Mets fans, it's a maddening situation, mostly for the question it invariably provokes: Why must David Wright be the exception rather than the rule on a Mets team desperate for more of the youth, energy and performance that he has injected into the organization?
To best understand the answer, you must first appreciate that Wright is a Met largely by accident of fate; a wonderful aberration in a long and continuing series of missteps by an organization obsessed with buying its stars from other teams. Wright's highly improbable journey to Flushing began after the 2000 season, by which time he had yet to graduate from high school.
The Mets, fresh off a demoralizing World Series defeat at the hands of their crosstown rivals, were preparing a contract offer for pitcher Mike Hampton, who had just completed a solid if unspectacular 15-10 season as the supposed ace of the pitching staff. The Mets, as is their wont, were jumping at the chance of signing him to one of those highly lucrative, seemingly interminable, utterly suffocating contracts that would have kept him in Queens for as many as seven years. But as fate would have it, Hampton's last pitch for the Mets was a curveball: He turned down their money and went off to the Colorado Rockies for a contract in excess of $120 million.
When the news broke, Hampton became a near-universal target of scorn and derision in Mets fandom. Little did the fans realize that in leaving, Hampton had saved the Mets from themselves. Although few suspected it, least of all the Mets, Hampton was done—done as a Met, yes, but more importantly, done as a premier pitcher. He would go on to stage a mile-high meltdown in Colorado, posting ERAs of 5.41 and 6.15 before being unceremoniously dumped after just two seasons. Nevertheless, it was said that the Mets had let Hampton go for "nothing" after paying a handsome price to acquire him in 1999. What few knew—and even fewer cared about—was that the Mets did, in fact, get something for Hampton. They got a compensatory draft choice of the kind that Major League Baseball hands out to teams who lose players via free agency. With that choice, the Mets selected David Wright, and the future of the franchise underwent a seismic, albeit quiet, shift.
Wright joined the organization in 2001, working steadily through the minor-league system and arriving at AAA by middle of 2004 after scorching AA pitching to the tune of a .363 batting average. His performance had made him one of the premier prospects in baseball. In prior and future years, that distinction may have disposed him to being traded for the brand of old, overpaid mercenary upon whom the organization has traditionally lavished millions. But it would be different this time. If Hampton's departure was the Mets' first saving grace, then their futility in the following years was their second. Luckily for the Mets and their fans, Wright came of age at a time when the Mets were hopelessly removed from the playoff hunt and so escaped the desperate, win-now purges that would later claim the Met careers of Scott Kazmir, Carlos Gomez and Lastings Milledge.
Now, at the tender age of 25, Wright already stakes a legitimate claim to being the best homegrown position player in Mets history. Among native Mets, he ranks first in career batting average; first in slugging percentage; and first in OPS. He trails Dave Magadan by just four one-hundredths of one point for first place in on-base percentage and seems a good bet to stand alone atop that list before he's done. Consider also that he runs uncommonly well and plays gold-glove defense at a premium position, and it's easy to see why Wright has become not only a Shea favorite but also a fixture on all-star ballots across the league.
Had Wright debuted in the midst of a playoff race rather than amid the dying embers of the Art Howe experiment, he may well have ended up like Kazmir: condemned to flourish in relative anonymity so that the Mets could land the latest soldier of fortune. And as dire as the Mets' lot seems now, one can only imagine how much worse matters would be had Wright followed Kazmir and others to another team.
It is perhaps too obvious to say that the Mets need more players like David Wright; every team in baseball needs another David Wright. But on a team rife with so many uninspired and apparently disinterested players whose time in the spotlight is moving ever closer to its inevitable end, Wright is more than a refreshing counterpoint; he's a reason to watch the game. And if this Mets' season continues along its current bent, he may soon be the only reason. That alone should underscore the Mets' desperate need for another Wright-esque infusion of youth, energy, and excitement. The problem is that it can't be bought. It will come only from within and as a result of a concerted, organization-wide effort to create—rather than buy—its stars.
Ultimately, whether the current Met mess resolves itself favorably or in another lost season will be decided by the players already on the roster; very little can change that. The Mets have made their old, overpriced, ill-conceived bed and are now facing the unenviable prospect of laying in it for what threatens to be a very long summer.
But whatever becomes of this season, the ticket to better days should be no mystery. In fact, you can see it from the dugout, the press box, and, yes, even from the owner's booth. He's playing third base for the Mets.
Ironically, of all the questions now facing this organization, the largest of all has nothing to do with Willie Randolph, with players who leave the locker room to avoid interviews, or even with the fate of this season. The weightiest question of all is whether the Mets will learn anything from the serendipity that brought them David Wright or choose instead to continue along the same bankrupt path, paved with fading stars and quick fixes, that led them to a historic collapse and now an existential crisis before the first of June.