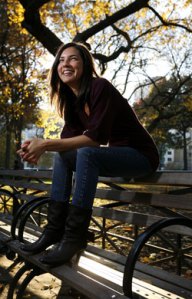 Sloane Crosley used to be a book publicist at Vintage. She still is one, actually, though the longer her collection of essays, published in April by Riverhead as I Was Told There'd Be Cake, remains on The New York Times best-seller list, the weirder that fact becomes. Shouldn't she quit pretty soon? Isn't that what happens now?
Sure, the advance she got from Riverhead was a mere good-not-great sum in the five figures, but the book has sold a staggering 20,000 copies and has easily earned out its advance. Shouldn't Ms. Crosley be out pitching her next book, striking while she's hot, shooting for the big bucks? Isn't she sleeping on piles of cash?
Not just yet. "I don't really have an eye towards quitting anytime soon," Ms. Crosley said last week. "Even if for some reason I was suddenly rolling in it, which I'm not, I wouldn't know about it for months and months and months."
But the question has come up, right? "People have been saying congratulations a lot. They haven't said, 'Congratulations, when can I have your office?'"
Russell Perrault, Ms. Crosley's boss in the Vintage publicity department, thinks Ms. Crosley is very happy working for him—though he admitted to Pub Crawl that the thought of her leaving has certainly occurred to him.
"Sure, of course, I've considered the possibility," he said. "Do I think it's going to happen? I certainly hope not! If we were getting in the way of her writing, I would say that she should leave, but I don't think that's the case right now."
Riverhead publisher Geoff Kloske, meanwhile, is unconcerned: "I confess when we set out to make Sloane's book a success, Random House's welfare was not part of my calculation."
What of Ms. Crosley's poor authors, though, the ones whose books she works so tirelessly to promote?
Who will blurb her next book, if not them?