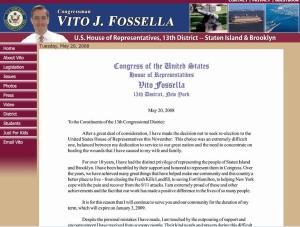 Here's what I've heard so far about who might run for Vito Fossella's seat now that the congressman has said he is staying in office but not seeking re-election.
A spokesman for Democratic City Councilman Domenic Recchia of Brooklyn, the best-funded challenger, said he's still in the race, despite some rumblings that he might drop out. Democratic attorney Steve Harrison is also still running.
On the Republican side, the names of State Senator Andrew Lanza and District Attorney Dan Donovan have been floated. But a bid by either would come at a cost to the party. A Lanza run could jeopardize one of the State Senate seats that give Republicans a majority. And if Donovan won, he would vacate his seat as district attorney, in which case David Paterson would almost certainly appoint a Democrat to that borough-wide position [clarified].
Independence Party activist Frank Morano also pushed the idea of a run by former Republican Councilman Steve Fiala (and not for the first time.)
For what it's worth, when I mentioned that idea to state Conservative Party Chairman Mike Long, he told me, "Certainly the door is open to any candidate," but said he is unfamiliar with Fiala.
Anyone else?