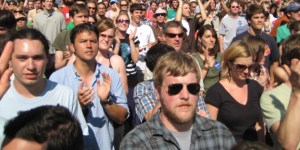 To view the North Carolina Democratic primary from outside the state is to view an ascendant Hillary Clinton and a Barack Obama mired in "bitter" and Jeremiah Wright. To view the primary from inside North Carolina is to see almost the exact opposite.
I traveled back and forth from Charlotte, the largest city in North Carolina, this past weekend. I grew up there.
All the anecdotal evidence suggested that it's Obama country.
One voter told me on Friday that she had had to wait an inordinately long time to cast an early ballot at a downtown precinct (she was voting for Clinton, but no matter). Most of those in line were African-American, and many of them were registering to vote; the deadline to register for this election was Friday. Another voter told me a similar tale of a long wait for early voting.
Sunday's Charlotte Observer reported that early voter turnout in Mecklenburg County—home of Charlotte—had increased 914 percent over 2004. In neighboring Union County, increasingly a bedroom community for Charlotte, early voter turnout was up 515 percent; in neighboring Iredell County, 1,016 percent. And many were African-American in a state that's roughly 21 percent so, according to the Census.
"I'd tell Clinton and Obama to hold on tight," Ferrel Guillory, director of the Program for Public Life at UNC Chapel Hill, told The News & Observer of Raleigh. "They're going to have the biggest turnout ever in the state."
That turnout, according to The News & Observer, could break the 1984 Democratic primary record of 961,000 voters. Add Republican voters in, and roughly 2 million North Carolinians—about 1 in 4 residents—will have cast ballots by the end of today.
Many will undoubtedly be cast in Charlotte and in Raleigh-Durham-Chapel Hill, the two most populous areas of the state; and, it should be said in this instance, the two most well-educated and most unlike the rest of North Carolina and the South at large.
And the two areas where Obama has drawn his largest crowds during the primary campaign.
Raleigh-Durham-Chapel Hill, often called the Triangle because of Research Triangle Park, which falls within the area, boasts one of the nation's highest concentrations of college graduates and PhDs. This is due mostly to the park but also to the major universities in the area, including Duke, N.C. State and UNC.
Charlotte, one of the 20 biggest cities in the U.S. now, is the nation's second-largest financial hub, behind Manhattan, with the headquarters of both Wachovia and Bank of America. The city and its suburbs also teem with Northern transplants (including 25 from my immediate family, most them there via upstate New York). Plus, like the Triangle, Charlotte is more educated—and more affluent—than the rest of North Carolina.
My guess is this: that the Obama victory map Tuesday evening will mirror Clinton's victory map in Pennsylvania: she won just about every area except Pittsburgh and Philadelphia; in North Carolina, Obama will win Charlotte and the Triangle (and a few other areas perhaps, like Wilmington).
Clinton will win just about everywhere in between. But it won't be enough.