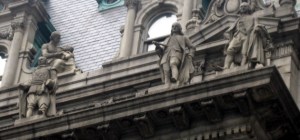 Here's how longtime political consultant Jerry Skurnik explained why anyone cares who wins the ongoing race for one of two positions on Manhattan Surrogate's Court: "Because a lot of lawyers make a lot of money at the courts."
In particular, he went on, trust and real estate lawyers, "many of whom are politically connected, get really high fees in Surrogate's Court."
In this case, there doesn't seem to be a clear favorite to win among the three candidates for the "obscure but powerful" open seat. John Reddy teaches law and is closely associated with the current surrogate, Renee Roth; Nora Anderson wants to give court clerks a greater role in processing cases; and Milton Tingling is currently a state supreme court judge who has support from the county organization and got the New York Times endorsement for a previous judicial race.
Last week, Tingling may have begun to pull away from the pack when he got the endorsement of the New York County Democratic organization, securing 141 out of 156 votes, according to a consultant on his campaign, Kevin Wardally. (In an email, Wardally explained, "In was a weighted vote where each District Leader was worth different amounts due to the size of the Assembly District but in total 156 votes were cast and our candidate received 141 of those votes cruising to a overwhelming victory. 141 for Milton Tingling, 12 for Reddy, 3 for Nora with 6 proxies of 21 votes open.")
The actual function of the Surrogate's Court is to rule on cases that have to do with the estate of someone who has died. Since that means the judges have the power to steer lots of money in fees to their colleagues, the Surrogate's Court has long had a reputation for corruption. In 2005, Brooklyn Surrogate Michael Feinberg was removed from the bench for awarding $9 million in fees to a lawyer who was also his friend.