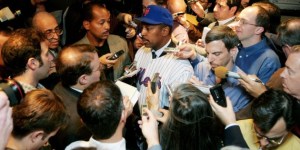 Let this be a lesson for managers and coaches in New York: When your team is down, don't pick a fight with the media.
Willie Randolph, the Mets manager whose team is now under .500, has made two mistakes this week, at a time when his job is looking more and more unsafe.
Randolph told the Bergen Record that he was getting a lot of heat from the media because he's black, and that SNY–which the Mets organization owns–delighted in catching him at unflattering moments in the dugout.
He asked to speak with the Mets' owners, the Wilpons, to apologize, and his offer was rebuffed (instead, he spoke to the team's GM, Omar Minaya).
Even the SNY analysts for Mets games, who are rarely critical of Randolph, lashed out. "In my 17 years of major-league baseball and 10-plus years of being up here in the booth, I've just never heard of a manager make those kinds of comments before, and I'm really quite surprised that Willie made those comments," said Keith Hernandez. Gary Cohen called it "another self-inflicted controversy."
Second mistake: He told WFAN that he thought that the Record interview was off the record. But other reporters who saw Randolph being interviewed said it looked pretty formal since Ian O'Connor, the Record reporter, had a tape recorder in his hand. Reporters tend to look out for one another on sports beats, and New York sports reporters are especially temperamental.
So, Willie: When your team sucks on the field, and the headline writers for the Post and the News are preparing to do their worst, spend your personal capital wisely. At the moment, you're just throwing it away.