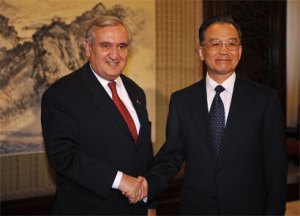 Uh, oh. "Grandpa" has his own Facebook profile. And he probably has more friends than you do.
According to The Times' Edward Wong, a fan of China's prime minister, Wen Jiabao, who is sometimes called "Grandpa," set up a Facebook profile that has already received "more than 12,500 supporters as of Tuesday night, underlining Mr. Wen's growing popularity in the aftermath of the May 12 earthquake which devastated parts of southwest China."
Mr. Wong could not confirm if the page had any ties to Prime Minister Wen. "There has been no official comment by the government in the official media about the page, and it was unclear whether Mr. Wen was aware of the page or approved of it."