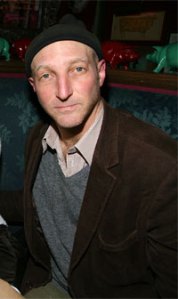 It's a chestnut as old as writing itself: Write what you know. Our colleagues over at the Culture Czar alerted us to the fact that according to Variety's Michael Schneider, HBO has green-lit a comedy pilot from Brooklyn writer Jonathan Ames called Bored to Death that "will center on a Brooklyn writer who nurses a painful breakup by acting out his dream to live as a character out of a Raymond Chandler novel. As a result, he finds a new lease on life by offering up his services as an inexperienced private eye."
Mr. Ames, aka, "The Herring Wonder," has at times acted as, in his words, a "literary dick (as in private detective." He is the author of The Extra Man and Wake Up, Sir! (as well an occasional New York Observer U.S. Open correspondent).
Previously, Mr. Ames created a pilot for Showtime called What's Not to Love about a Brooklyn writer whose revealing column for an alt-weekly ruins his life. In that series, Mr. Ames, who had previously written a revealing column for The New York Press, played himself. According to Variety, "casting is now under way" for Bored to Death.