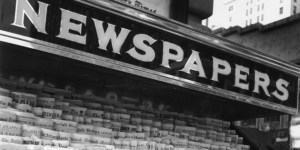 We all know that ad revenue for newspapers is tanking, but apparently it's even worse than we thought. Richard Pérez-Peña is reporting in The Times this morning that newspapers are on pace for their all-time worst ad revenue year. He reports:
Over all, ad revenue fell almost 8 percent last year. This year, it is running about 12 percent below that dismal performance, and company reports issued last week suggested a 14 percent to 15 percent decline in May.
"Never in my most bearish dreams six months ago did I think we'd be talking about negative 15 percent numbers against weak comps," said Peter S. Appert, an analyst at Goldman Sachs. "I think the probability is very high that there will be a number of examples of individual newspapers and newspaper companies that fall into a loss position. And I think it's inevitable that there will be closures in this industry, and maybe bankruptcies."
Online ad revenue continues to grow, but that hardly makes up for the deficit: Internet ad revenue makes up less than 10 percent of newspaper's total ad revenue numbers.