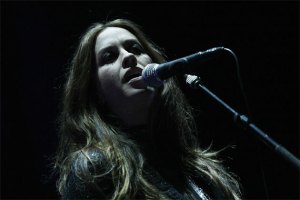 Ryan Reynolds is engaged to Scarlett Johansson and Alanis Morissette, who was with the actor for four and half years prior to their break-up early last year, is back to writings songs reminiscent of her 1995 Jagged Little Pill album.
Ms. Morissette talked to AP about the album and getting over her break-up. Read on for the latter part.
On how the split helped her write:
"In the middle of my breakup, I went to London for 12 days, wrote 12 songs. It was all very immediate and visceral. Then I came back to LA and wrote 12 more songs with a gentleman named Guy Sigsworth, whom I adore. So the writing itself was very immediate. Versus my having written in the past retrospectively. It was very in the moment. It was like a little life raft for me. The structure of going in the studio every day was very helpful for me."
On reading gossip about herself:
"I'm definitely not online or reading those magazines anymore. I used to read them all the time but I think once the tables were turned on me, I stopped reading it. I started to see the nature of it, and I started to see in my case anyway a lot of it was inaccurate. So I stopped reading it, because I thought well if it's that inaccurate about me, it can't be accurate about other people. But every once in a while they nail it on the head."
On her ex moving on with ScarJo:
"I have enough distance, so to be perfectly honest I'm not really that focused on it. I wish anyone whom I love, whether I hang out with them or not, great success and love in their life. So—Godspeed."