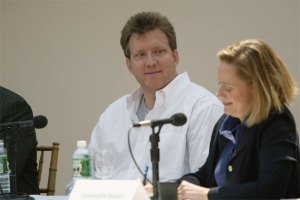 Does Hallmark make a "Happy 103rd Consecutive Day Without Corrections" card? Maybe there's some sort of TDF "Fact-Check-Me-Up" bouquet?
There's gotta be some way to honor New York Times television critic Alessandra Stanley this week. As Portfolio's Jeff Bercovici notes, Ms. Stanley, who has been the butt of many pop culture bloggers' jokes for her occasional lapses in fact checking, hasn't had a correction in 103 days.
After cataloging a few of her memorable mistakes—"All About Raymond"?—Mr. Bercovici quotes a surprisingly good-humored Ms. Stanley, who cautions him not to uncork the champers just yet: "I'd hate to stand corrected, but I think your count could prove wrong," Ms. Stanley says. "There could be one coming in the next few days—[it's] still under study."
The first step is admitting you have a problem.