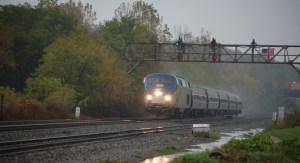 The Times' Matthew Wald in a Saturday story reported that Amtrak ridership was increasing because of higher gasoline prices and other factors.
Amtrak set records in May, both for the number of passengers it carried and for ticket revenues — all the more remarkable because May is not usually a strong travel month… Want to take Amtrak's daily Crescent train from New York to New Orleans? It is sold out on July 5, 6, 7 and 8. Seattle to Vancouver, British Columbia, on July 5? The train is sold out, but Amtrak will sell you a bus ticket.
(Now only if Amtrak would lower its Northeast fares.)
My colleague Lysandra Ohrstrom earlier this month reported that ridership on the Long Island Railroad route from New York City to the Hamptons was up by double-digit percentages this spring over spring 2007.