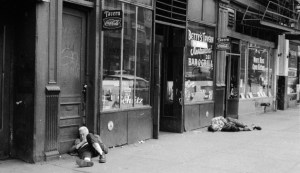 Anti-bar-sprawl activists used to bemoan the State Liquor Authority's glaring lack of a single voice from New York City.
Now, the state agency is poised to include a bonafide majority of city slickers.
Governor David Paterson today nominated a former legislative aide, Jeanique Green, presently a senior court analyst in the New York City branch of the state Office of Court Administration, to cast the crucial third vote on all licensing matters.
It can be an important and deciding vote. Just ask restaurateur Giuseppe Cipriani, whose case is stuck in regulatory purgatory after a split decision by the S.L.A. on May 28.
If confirmed by the state Senate, Ms. Greene will join Brooklynite Noreen Healey as the second Big Apple-based appointee on the panel.
S.L.A. Chairman Daniel Boyle, a former Syracuse cop, is the panel's third member.
Full details of Ms. Greene's nomination are as follows:
Jeanique Greene has been nominated as a Member of the State Liquor Authority. Ms. Greene is currently a Senior Court Analyst with the Office of Court Administration focusing on continuing legal education. From 2004 to 2005 Ms. Greene was a Court Representative for the Center for Alternative Sentencing and Employment Services (CASES) in New York City. In that role, she assessed whether criminal defendants were eligible to participate in an alternative to incarceration program and was a liaison to the district attorney's offices and to defense attorneys. Ms. Greene also appeared before Criminal and Supreme Court Judges. From 1993 to 1999, Ms. Greene was the Legislative Director for then Deputy Minority Leader David A. Paterson. She researched and drafted legislation, resolutions and proclamations, analyzed budget issues and worked with constituents. Ms. Greene received her BS from the John Jay College of Criminal Justice and her JD from Albany Law School of Union University.
As a Member of the State Liquor Authority, Ms. Greene will receive a set salary of $90,800. This appointment requires Senate confirmation.