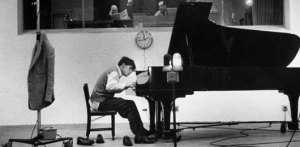 A ROMANCE ON THREE LEGS: GLENN GOULD'S OBSSESSIVE QUEST FOR THE PERFECT PIANO
By Katie Hafner
Bloomsbury, 259 pages, $24.99
More than 25 years after his death, the most iconic and extensively documented pianist of the last century continues to generate enormous curiosity, and no wonder. Glenn Gould is a biographer's dream, with a career path as extraordinary as his many eccentricities, from extreme hypochondria—resulting in an aversion to shaking hands, and wearing coat, gloves and hat in the full heat of summer—to traveling with his comparatively ancient and battered Steinway and a low stool (a pygmy chair) that in time lost its upholstery, leaving Gould seated just on the wooden crossbar.
There are numerous books on Gould currently in print, and the question must be whether we really need another. The answer in this case is a resounding yes, for Katie Hafner has managed to find a new angle from which to approach this intriguing and rather unfathomable figure. In choosing Gould's "Obsessive Quest for the Perfect Piano," she traces an unusual odyssey, one that allows us to witness the full extent of Gould's obsessive-compulsive "disorder" with regard to the one crucial focus of his life.
GLENN GOULD WAS CATAPULTED to fame in 1955, at age 22, by a recording of Bach's Goldberg Variations, which remains a benchmark to this day, and his interpretations of seminal works are some of the most challenging versions to have been recorded. Many would indeed argue that they were perverse, as Leonard Bernstein did in 1962: Directly before a performance of Brahms' 1st Piano Concerto with Gould and the New York Philharmonic, Bernstein delivered a speech in which he respectfully distanced himself from the "unorthodox" interpretation that was to be heard. (Thankfully, the speech and the performance are available on CD, from Sony; as Bernstein remarks, "We can all learn something from this extraordinary artist who is a thinking performer.")
It was in 1960 that Gould discovered a Steinway CD 318 languishing backstage at Toronto's Eaton Hall—the "romance on three legs" is more a torrid love affair than a romance. The object of Gould's enduring desire was one of the last pianos from the glory years of the 1930s and early '40s (before the Steinway factory in New York was directed to help in the war effort, manufacturing wooden troop-carrying aircraft). Like Horowitz, Gould favored a very light touch to enable extremely fast passage work, but where the former tended to prefer rich sonorities ideal for the Romantic repertory, Gould wanted his piano to attain the clarity and articulation of a harpsichord in order to excel in an unusually wide-ranging repertory that stretched from the Renaissance to the 20th century. As Ms. Hafner relates, this was possible only on the CD 318, which was constantly being improved to meet Gould's exacting specifications.
When the action of the CD 318 was all but destroyed in an accident in 1971, Gould retired from the concert platform in favor of the recording studio. After years of searching, he finally came across a Yamaha piano that was up to the task in hand: a second and final recording of the Goldberg Variations. Within a week of its release, in 1982, Gould was dead. He was 50 years old.
BOOKS ON MUSIC ARE often either overly erudite or banal and platitudinous. Katie Hafner avoids both extremes: She's eloquent and unpretentious and tackles a remarkably complex subject with a wide-ranging approach that manages to encompass the gamut of issues that are part and parcel of musical performance. Among the joys of this book are the many excursions, including tuning and the rise of the blind tuner; the science of piano manufacture; the infinite subtleties of toning, voicing and regulating pianos; the politics of the concert world; and the monopoly that was so successfully exercised by Steinway & Sons. Ms. Hafner is especially adept at conveying the human element in all this, interweaving a wealth of factual information with all the complexities of Gould's mental and musical psyche, and paralleling this with the life story of his favored piano tuner and technician, Charles Verne Edquist.
Beautifully written and meticulously researched, A Romance on Three Legs succeeds in making a valuable addition to the Gould literature, for which his legion of supporters and pianophiles everywhere will be infinitely grateful.
Nick Salwey is Head of Piano at Winchester College in Hampshire, England. He can be reached at books@observer.com.