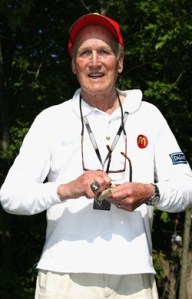 The Associated Press has confirmed that Paul Newman, the Oscar-winning actor, philanthropist and salad dressing entrepreneur, is battling cancer. The news comes from the 83-year-old Mr. Newman's longtime friend and business partner, writer A.E. Hotchner, with whom Mr. Newman started Newman's Own salad dressing company in 1982. (It reportedly started as a joke and grew into a multi-million-dollar food company.) "He's battling," Mr. Hotchner told the AP. "He's doing all the right stuff. Paul is a fighter. He seems to be going through a good period right now." The AP reports:
Newman issued a statement late Tuesday that he's "doing nicely" but didn't specifically address questions about cancer. A call was placed to his spokesman Wednesday seeking comment.
The Oscar winner appeared to have lost weight when he was photographed during practice for the Indianapolis 500 auto race last month. Martha Stewart, in an entry dated June 6, posted a photo on her blog of herself with the actor, who looked thin, at a luncheon to benefit the Hole in the Wall Gang camps for critically ill children. (The Hole in the Wall Gang was led by Newman's affable outlaw character, Butch, in the 1969 film "Butch Cassidy and the Sundance Kid.")
Newman won an Oscar for his leading role in 1986's "The Color of Money." His screen credits also include "Hud," "Cool Hand Luke," "The Verdict" and "Road to Perdition."
Hotchner said Newman had an operation a few years ago. "It was certainly somewhere in the area of the lung," he said.