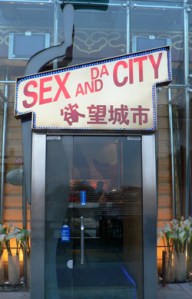 BEIJING—"Of course, nobody wants to be Samantha," Eva Shen said. It was a warm Saturday night on Houhai, the lakeside bar strip, and Ms. Shen, 40, had stepped outside the club she co-owns. Over the door, in glowing characters, was the Chinese name of the club, Yuwang Chengshi; above that, in larger letters, was its other name: SEX AND DA CITY.
Ms. Shen spoke English and wore yoga pants, a white T-shirt and flip-flops. ("I do yoga a lot," she said.) Her hair was reddish and pulled back. Around her, the night was full of women in short-shorts, teetering heels, sparkly things; among the women were all the men looking for women.
Sex and da City opened in 2003, Ms. Shen said. She and about a dozen friends had been out at the World of Suzy Wong Club, and everyone agreed they might as well open a bar of their own. When they convened to discuss the idea again in the daytime, the group had dwindled to five. When it came time to talk about investing money, Ms. Shen said, it was down to four women.
That night, Ms. Shen said, she went home and watched HBO. And right there was a show—she had already been a fan—about "exactly four girls," pursuing independence and glamour in the big city. Before Ms. Shen and her partners went to the bank, another one of them dropped out, but she had settled on the name. Replacing "the" with "da" is, by Chinese standards, a fairly respectful nod to intellectual-property rights.
"We have Charlotte, we have Carrie," Ms. Shen said. They have Samantha, too, Ms. Shen added, but their Samantha won't admit it. Which one is Ms. Shen? "Maybe Carrie," she said.
Ms. Shen said she is looking forward to the Sex and the City movie. "Maybe my husband already bought the DVD," she said.
Houhai is a Beijing phenomenon, a quiet area of shoreline devoured in less than a decade by a nightlife land rush. It now has the frantic, eagerly debauched air of a boardwalk during spring break—tinged by the interethnic May-December satisfaction of expats on the make. A vendor sold T-shirts with flickering graphic equalizers on them. Live heavy metal came out of an open bar front; a cover of "Country Roads" from another. Touts trolled the strip murmuring invitations to this or that "lady bar." "Lady bar, lady bar."
Ms. Shen was born in Chairman Mao's Beijing, in Haidian District. "I never imagined that I could open a bar like this," she said.
Sex and da City is a modest-size club, with a square floor plan and a square bar in the middle, with a two-story mural of Marilyn Monroe looming above the liquor bottles. A DJ booth was playing hip-hop, loudly. Marilyn's face looks into a three-sided loft, where tables are 500 RMB ($72). The drink menu is long and includes an "Absolut Astronaut Shooter," a "Sex and da City Absolut Cosmopolitan," and an "Olympic Cocktail." The last was orange-ish and fruity, and it came in a big martini glass with a cherry notched onto its rim.
On each side of the bar is a shiny metal pole, running up to the facing of the loft. Around 11 p.m., a young woman in a snug black dress and shiny boots past her knee climbed up on the bar and began dancing around and on the pole. The dancer had a cheery smile and wore square-cut bangs down past her eyebrows. She danced in a matter-of-fact style, wrapping it up by shinning up the pole, as if in gym class, and doing a back bend.
Another dancer, skinnier and in a blousy, shorter dress, took the next shift. Older Chinese men with peasant faces paused outside in the lane, goggling through the clear part of the glass door. Ms. Shen said she added the pole dancers in 2005. "Actually, there is a school, a pole dancers' school, in Beijing," she said. Occasionally, she said, the district police come by and tell them to make sure nobody does anything too provocative.
Inside, a Chinese couple in their 20s was having a drink at one of the tables. Jodi Xu, a reporter born in Shanghai, had met me at the club to help with interviews. The man told us that they had come to the club because of the pole dancers. It was the only pole dancing on the whole street, he said. The dancers used to be more sexy, and they had more moves, he said, but the police had made them cut down on the erotic dancing for the Olympics.
The DJ played "Let's Get It Started," and people whooped and began to dance. On top of the bar, the woman in the boots—now wearing a blue pleated skirt and a T-shirt reading "ALL GOOD IN THE HOOD"—kept moving at her previous calm pace.
Up in the loft, by the top of the stairs, the other dancer was slouched in a chair, wearing earbuds. She took them out to talk to us about Sex and da City. She came to Beijing from Shanxi Province two years ago, she said, and she had been an instructor at the city's pole-dancing school. She dances 10 minutes a shift—she held up her index fingers to make a cross, the Chinese symbol for "10"—eight shifts a night, till 1 a.m. "I studied dancing since I was a child, so that's why I like dancing," she said. "But at the same time, I need to make money." Living in Beijing, she said, created a lot of pressure. "If there's no money, you can't survive, and it's hard to find a job."
She confirmed that the police had asked them to dance less sexily, more low-key. She fiddled with a cigarette lighter in one hand and a shiny cell phone in the other as she talked. How old was she? Twenty-seven, she said. "Don't ask about my age."
Downstairs at the center of the bar, a Chinese woman in a dull-patterned dress had been sitting for a long time with her back to the door, talking to no one, stooped over a lowball glass. A bartender set a bottle of Corona beer, with a lime in the neck, beside her. Then he put fresh ice in a glass and poured the beer over it for her.
tscocca@observer.com